Hrithik Roshan Sit With Pakistani Actress Mahira Khan At Red Sea Film Festival Watch Here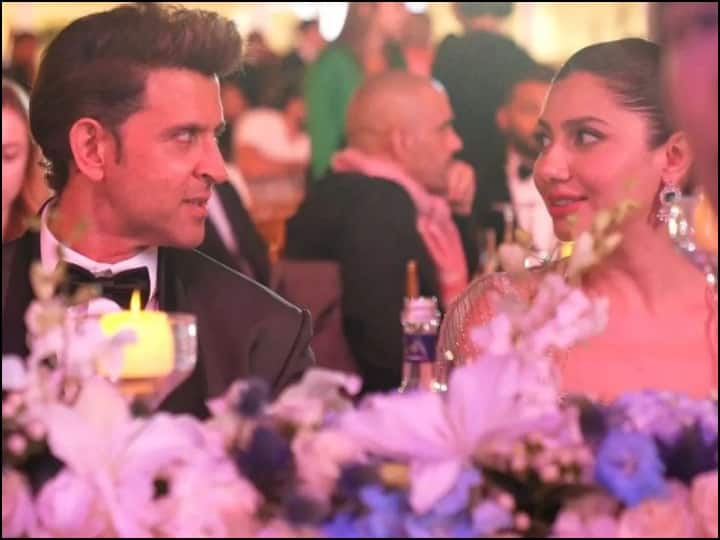 Hrithik Roshan-Mahira Khan: Red Sea International Film Festival 2022 was organized in Jeddah, Saudi Arabia. Film stars from the country and the world participated in this festival. Many big stars from Indian cinema also came to participate in the festival. At the same time, film stars from the neighboring country of Pakistan also came to the function.
Mahir Khan and Hrithik Roshan were seen sitting side by side
Now a video related to the festival has surfaced on social media in which Bollywood's handsome hunk actor Hrithik Roshan and Pakistan's star actress Mahira Khan are seen sitting together on a seat. Some pictures of Mahira and Hrithik Roshan are also going viral. In the pictures, Mahira is seen engrossed in a deep conversation with the Indian actor. They are so engrossed in both the things that they have forgotten the whole world. A video of Mahira and Hrithik is also going viral.


News Reels
Mahira kept looking at Hrithik
As soon as Hrithik Roshan arrived at the festival, he warmly greeted the rest of the seated guests and said, "It's a pleasure to be here, it's incredible." Hrithik Roshan, the most charming and dancing sensation of Indian cinema, posed and talked fiercely to the photographers present there. TV show 'Humsafar' and Indian film 'Raees' fame Mahira Khan is sitting on the same seat, in one picture Mahira is seen looking at Hrithik and posing smiling to the cameraman.


Both the actors talked a lot
At the festival, Hrithik and Mahira Khan were sitting next to each other near the stage. In one of the clips, Hrithik is seen having a conversation with Mahira. Talking about the looks of both the actors, Hrithik wore a white shirt and matching pants under a black jacket. He completed the look with a tie and black boots. On the other hand, Mahira is looking very beautiful in a sleeveless shimmer gown.
Apart from Hrithik Roshan, Shah Rukh Khan, Kajol, Sonam Kapoor, Kareena Kapoor Khan, Saif Ali Khan, Ranbir Kapoor and Freida Pinto also participated in the Red Sea Film Festival. Shahrukh Khan was given special honor and a special screening of the film 'Dilwale Dulhania Le Jayenge (DDLJ)' was also held.
Also read- Sonam Kapoor's son Vayu became the darling of maternal uncle Harshvardhan Kapoor, the actress shared a cute picture from inside the house