Hansika Motwani Mother Mona Is Reaction About Her Daughter Wedding With Sohail Khaturiya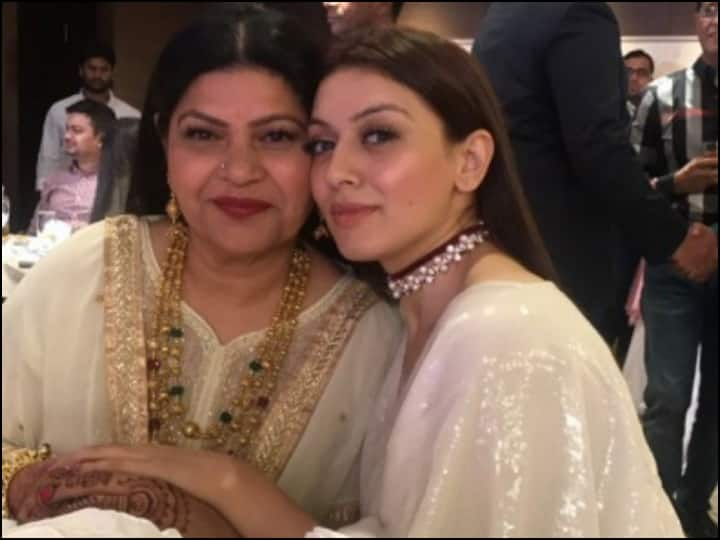 Hansika Motwani Mother's Reaction On Wedding: South and Bollywood actress Hansika Motwani has dominated the social media these days for her luxury wedding. Wedding photos of the newlywed bride are also becoming very viral on social media. Meanwhile, the mother of the actress has openly expressed happiness over the marriage of her beloved.
Mother expressed her happiness on daughter's marriage
Hansika Motwani has tied the knot with her long time boyfriend Sohail Kathuria. Couple has a royal wedding on 4 December 2022 in a palace in Jaipur. Only family, close relatives and friends were invited to the function. After Hansika's marriage, now her mother Mona Motwani has given her reaction. In conversation with E-Times, the mother of the actress shared many happy moments.
found the right guy at the right time
Hansika's mother became very emotional while talking about her daughter's marriage. She said, "I am very lucky and my heart is full of emotions at this moment. Daughter's wedding is the biggest day for any parent, and to find the right guy at the right time and right age is all I need." Have to say, God is very kind. Yes, today I am very happy."
Hansika currently has 7 films
After marriage, the actress's mother also made many revelations on Hansika's working plan. He told that immediately after marriage, Hansika is going to be busy in films and web shows. Mona Motwani said, "Hansika currently has seven films and two web shows, the films will be released on the OTT platform Hotstar. She is going to be busy with work as before."
News Reels
Told about daughter's in-laws
Apart from work, Hansika's mother told about the daughter's new house being very close to her maternal home. He also praised Hansika about her in-laws. The mother of the actress said, "Hansika is lucky that she has married the person of her choice but we are also lucky that we are associated with such a good Kathuria family. It is very important to be a good person."
Also read- PICS: Stars graced Manish Malhotra's birthday party, everyone's eyes stopped on the beauty of Rekha