Shah Rukh Khan Does Horrific Motorcycle Stunt In Pathan Yashsraj Shared Photos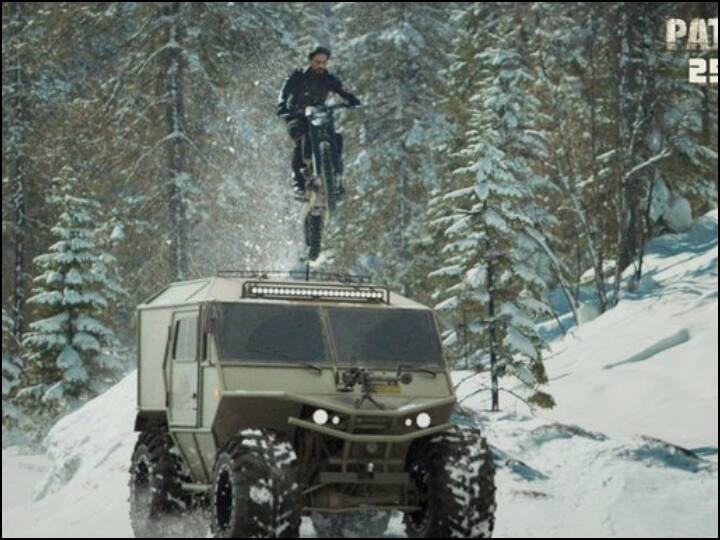 Shah Rukh Khan Stunt In Pathan: Bollywood superstar Shah Rukh Khan is in discussion these days about his upcoming film 'Pathan'. The promos and posters of the film have been released. Apart from Shah Rukh, Deepika Padukone and John Abraham will also be seen in 'Pathan'. King Khan is going to be seen in a strong action avatar in Pathan. High level action will be seen in the film. Recently some pictures of Shah Rukh Khan's motorcycle stunt have come to the fore.
Shahrukh's action avatar will blow your mind
The filmmaker has shared the latest pictures of Shah Rukh Khan's dangerous stunts. Shah Rukh Khan is seen doing a dangerous bike stunt in Pathan. These photos related to the shooting of the film will increase the excitement of the audience. In the action avatar, Shahrukh is sometimes seen flying in the air on a bike and sometimes jumping on a jeep. Scenes of the film's luxury location Paris have also been seen in the photos.
8 countries, 3 superstars, 1 film – Pathaan 💥💥💥
Team Pathan shot in Spain, UAE, Turkey, Russia and Siberia, Italy, France, India and Afghanistan!
Celebrate #Pathaan with #YRF50 only on a big screen near you on 25th January, 2023. Releasing in Hindi, Tamil and Telugu. pic.twitter.com/58nkglB5GQ

— Yash Raj Films (@yrf) December 2, 2022
News Reels
Pathan will get high level action
Talking about the action sequences in Pathan, director Siddharth Anand had told that, "We have been alert about the action sequences of Pathan. Even the pre-production of the film took almost two years as Pathan has a high level of Going to show the action of.
Pathan has been shot in 8 countries
He further added, "Locations always play a big role in my films. That's why in Pathan we have focused on the location and we want to give the audience action that they have never seen before. We love the film and its grand action. Went to 8 countries to shoot the scene."
However, a lot of buzz is being created on social media regarding Pathan. Recently, Shahrukh Khan shared the video after completing the shooting schedule from Saudi Arabia. Recently a new poster of the film was released. Pathan will be released on January 25, 2023. Apart from Hindi, it is also going to be released in Tamil and Telugu.
Also read- Shahrukh Khan_Kajol recreated the romantic scene of 'DDLJ' in Saudi Arabia, video viral