Irfan Khan Fans Get Emotional As Tabu Shares A Comforting Hug With Babil Khan At Special Screening Of Qala Watch Video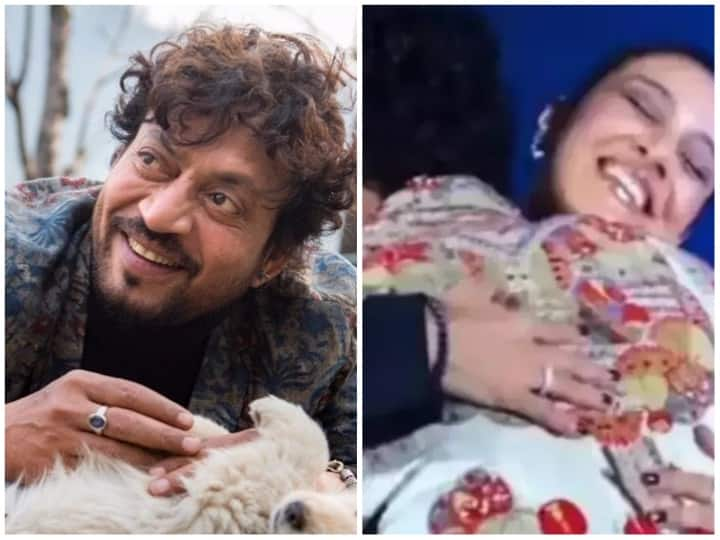 Tabu Babil Khan: Veteran actor Irrfan Khan is not in this world. He used to breathe life into every character with his acting. Now to carry forward the legacy of Irrfan Khan, son Babil Khan has entered the industry. Babil's debut film Kala (Qala) has been streamed on Netflix. Tabu also attended the special screening of this film. During this, a video has come to the fore, seeing which the eyes of Irfan's fans became moist.
Tabu hugs Babil Khan
It can be seen in the video that during the screening of Kala, Babil cannot stop himself from seeing Tabu and goes ahead and hugs her. Tabu also hugs Babil. Everyone is praising this gesture of the actress. It is known that Tabu and Irrfan Khan have worked together in films like 'Maqbool', 'Life of Pi', 'Ghat' 'Talwar' and 'Haider'.
I might cry. 😭 I don't talk much about what Tabu & Irrfan meant to me but I loved them & their cinema ❤️‍🩹 and THIS right here, matters! pic.twitter.com/uP1EvbiCui

News Reels

— 🌌 (@aestheticallyFM) December 1, 2022
Fans got moist after watching the video
This video of Tabu and Babil is becoming fiercely viral on social media, seeing which the eyes of Irrfan Khan's fans have become moist. Sharing the video, a Twitter user wrote, 'I will cry. I cannot talk much at this time that how much Tabu and Irrfan mean to me but loved them and their cinema very much. In this way, while replying to the video, many users have shared their feelings for Irrfan. One user wrote, 'This video made me cry'. Another commented, 'It has touched my heart deeply'. At the same time, a user wrote, 'I can feel these emotions'.
Babil said this about father Irfan's work
Some time ago Babil Khan talked about the work of father Irrfan Khan. He said, 'Baba's entire work was about connecting with people. Who is producing that film? Who is the director? Or did not care at all about things like awards. He only knew that he had to play the character and take it to the people. I have the same thing. Let us tell you that after 'Kala', Babil will be seen in the web series The Railway Men, in which stars like R Madhavan, KK Menon and Divyendu will be his co-stars.
Also read- Kareena Kapoor did not agree to this statement of husband Saif Ali Khan, gave information to the fans by posting a photo