Anupam Kher Visits Siddhivinayak Temple Amid In IFFI 2022 Nadav Lapid The Kashmir Files Controversy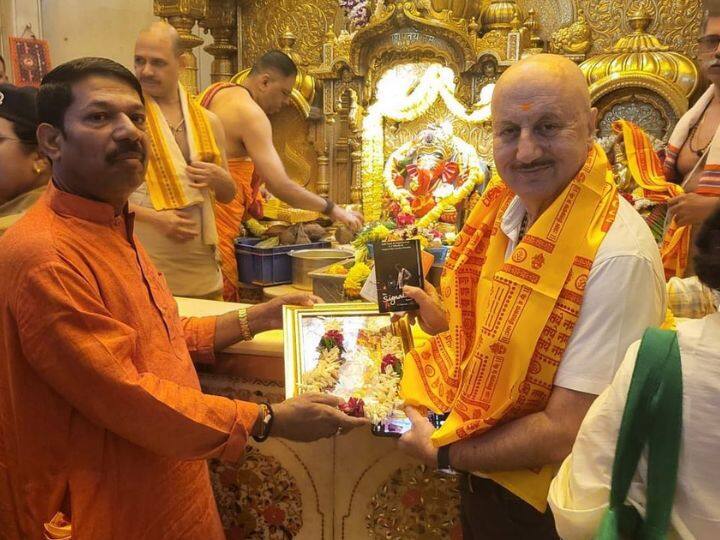 Anupam Kher Pics: Veteran actor of Hindi cinema Anupam Kher is famous for his outspoken style. At present, there is a lot of controversy regarding Anupam Kher's film 'The Kashmir Files'. During the closing ceremony of IFFI 2022, Israeli filmmaker Nadav Lapid declared the film The Kashmir Files as absurd and propaganda. Anupam Kher has also strongly criticized Lapid on this. In such a situation, in the midst of this controversy, Anupam Kher has now come to visit the Siddhivinayak temple in Mumbai.
Anupam Kher reached Siddhivinayak temple
On Wednesday morning, Anupam Kher shared the latest pictures on his official Instagram handle. In these photos you can see that Anupam Kher is present in Siddhivinayak temple in Mumbai. In the next slide of pictures, Anupam Kher is holding a photo frame in his hand and also included the poster of his upcoming film The Signature.
Anupam Kher has written in the caption of these latest pictures that- 'Sabki Salmati ke liye dua mangi hai. The shooting of my upcoming film 'The Signature', directed by director Gajendra Ahire Godh, has been completed. It is known that along with Anupam Kher, Bollywood veteran actress Mahima Chaudhary will also be seen in an important role in this film.
News Reels


Anupam Kher furious at Israeli filmmaker
Anupam Kher has expressed displeasure over the controversial statement made by Israeli filmmaker Nadav Lapid on The Kashmir Files film at the 53rd International Indian Film Festival. Anupam Kher has said that- 'Lapid has misused the platform. Everyone has the right to speak his mind in this world of freedom, but he should keep in mind that when and where he should express his opinion. Used to be. Some people are not embracing the success of The Kashmir Files film.
Also read- Entertainment News Live: Amidst the controversy, Vivek Agnihotri announced – will now make 'The Kashmir Files – Unreported' as well