Bigg Boss 16 Day 55 Written Update 24 November Bigg Boss Played Game By Showing Clips Of Sumbul And His Father Tina Shalin Got Angry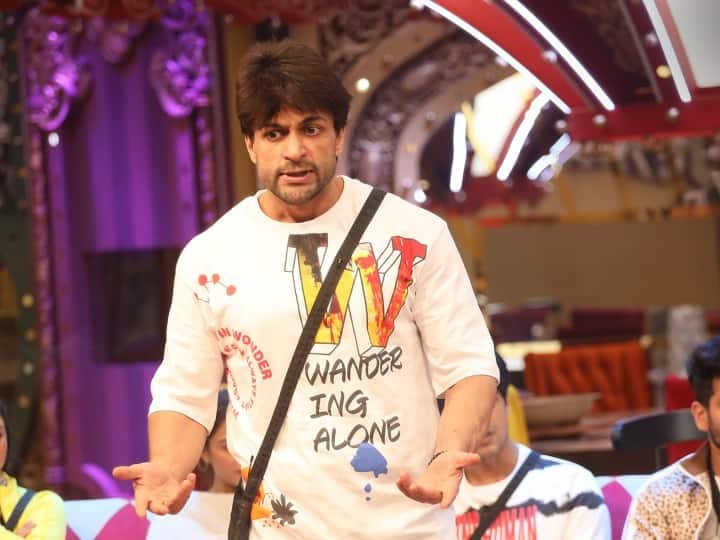 Bigg Boss 16 Day 55 Written Update: The 55th day begins with the Bigg Boss anthem. The debate about the captaincy of Tina and Nimrit starts in the morning itself. Tina says I want commitment. On this Nimrit says that why do you keep the condition every time. After this, Nimrit leaves angrily. On the other hand, Sajid says that Shiv, you remain the captain, their quarrel is on. Later Tina and Nimrit hug each other and Tina also says sorry.
Clip of conversation between Sumbul and his father creates ruckus
After this, Bigg Boss adds fuel to the fire in the house. Bigg Boss tells all the contestants in the living area that an incident happened in the house in the past. The health of the father of a member of the house was bad, so bypassing all the formats, I made him talk. After this, Bigg Boss shows the clip of the conversation between Sumbul and his father to all the family members, in which Sumbul's father is telling him to show Shaleen and Tina's status. Bigg Boss says that I got the phone called as a humanity and during this, instead of talking about illness, the house was talked about. After this, Bigg Boss says that there is a player in the house who has received feedback from outside. After this, Shalin's temperature becomes high, he shouts at Sumbul and says that when your father has told you to stay away, then why don't you stay away. On the other hand, Tina says what have I said, Salman Khan sir or other people are coming and speaking for Sumbul.


Sumbul's health deteriorated
While crying in front of Shiva, Sumbul says that I could not hear a clear voice in the confession room. Otherwise, I would not have taken Shaleen's jacket. I can't hurt my father. At the same time, Shaleen shouts that now I will not be able to spend a week here properly. Shaleen says that he is calling me a bastard and then he starts crying. At the same time, Shiva explains to Sumbul that he is a father and because of what he felt bad, he has spoken. After this, Shaleen comes running again and when your father has forbidden, then why did you come to me. Whereas Tina says that Thank you Bigg Boss for showing this clip. After this Sumbul cries a lot and her health worsens and Shiv, Nimrit and Sajid are seen taking care of her.
Saare contestants de rahe hai @BhanotShalin, @iamTinaDatta and @TouqeerSumbul ko sahaanbhuti. How supportive of them. ❤️#BB16 #BiggBoss16 #BiggBoss @BeingSalmanKhan pic.twitter.com/57IAipZvTa

— ColorsTV (@ColorsTV) November 24, 2022
Argument between Tina and Sumbul
Tina looks very angry and says that they are throwing mud at me to save the honor of their own daughter. Tina shouts that if your own daughter is not able to handle, then don't point finger at other's daughter. Shaleen says whether she is doing it intentionally for the game. On this Tina says that there is not a finger on my character in the outside world. After this Sumbul goes to the medical room. Tina tells Shaleen that which relationship are they talking about, there is nothing between us. Tina then comes to Sumbul and says that there is no relation between me and Shaleen and respect someone else's daughter as well. On the other hand, Sumbul says that my clothes are flying. After this there is a fight between Tina and Sumbul as well.
Sumbul says sorry to Tina and Shaleen
Priyanka, Archana and Soundarya enjoy a lot in this whole matter. At the same time, Sajid tells Sumbul that you pray that you get evicted from the house tomorrow. Shaleen and Tina look extremely disturbed by the whole incident. At the same time, Sajid tells Sumbul that somewhere both of you should say sorry and then separate from each other. After this Sumbul says sorry to Tina. At the same time, Sumbul also says sorry to Shaleen. Shaleen says that only your good is needed and has kept you like a child.
There is a captaincy task in the house
After the entire episode of Shaleen, Tina and Sumbul, the captaincy task takes place. This time there is a task of fishing to become the king. In the first round, Sumbul, Ankit and Soundarya go from the general public and Shiva and Nimrit go from the royal members. Everyone fills the basket with fish from their own side, but the operator Stan rejects the basket of the general public and keeps the basket of the royal members in the cold storage. In the second round, due to Archana, the common people lose and only the royal people win. While in the middle of the task, Sajid gets irritated by Archana's words and runs to kill her. Meanwhile, Shiva also keeps teasing Archana. With this the episode of the 55th day ends. Tomorrow in Friday's war, Sumbul's father and Tina's parents will present their respective views in front of Salman Khan. Tina's parents will tell Sumbul's father that how can you say anything about someone else's child.
read this also:-Freddy New Teaser: Marriage, Romance and Atrocities… Karthik Aryan looked even more creepy in Freddy's second teaser