Apple iPad 10th Gen Review: Too pricey for whatever it wants to be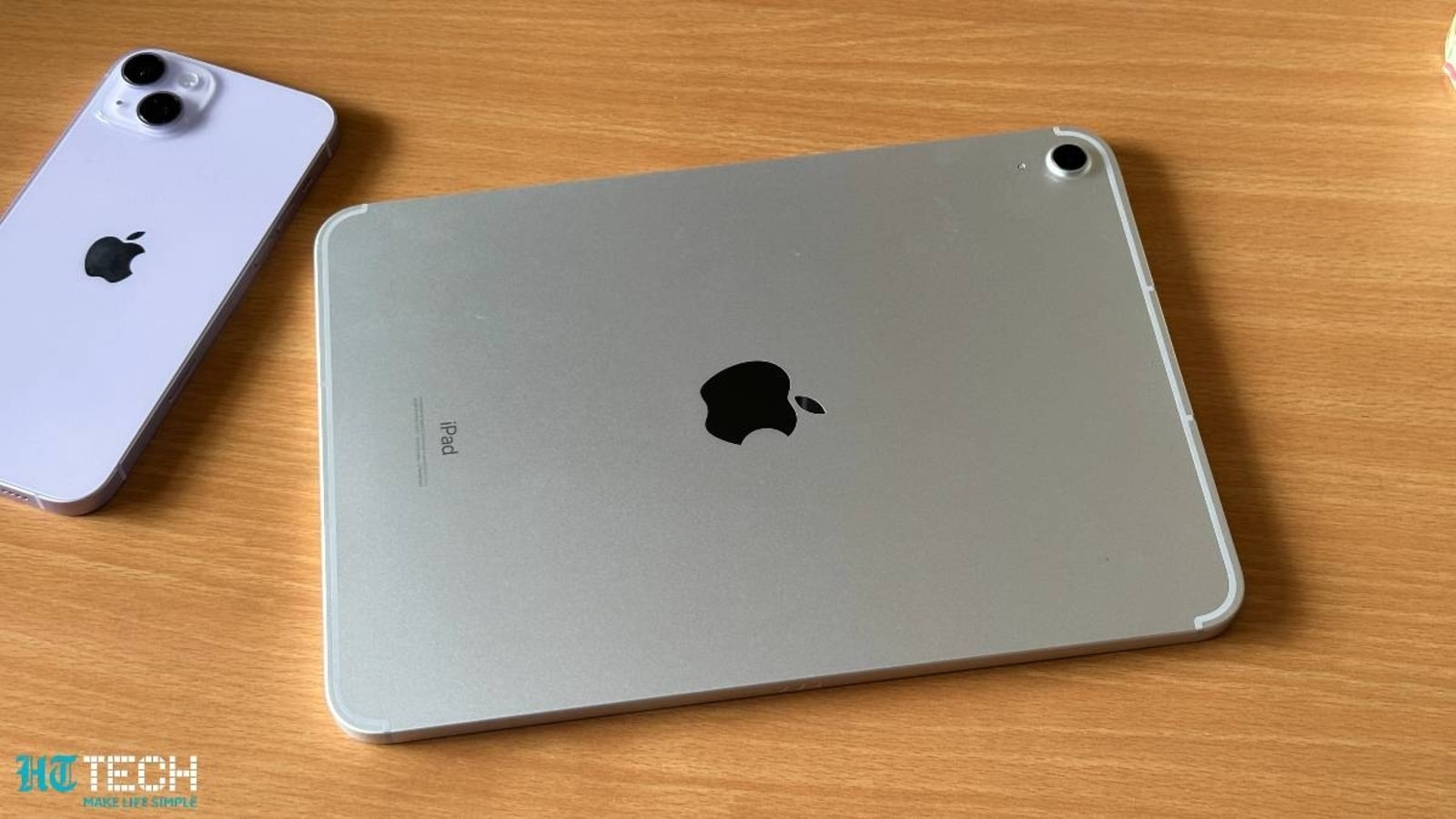 The iPad 10th generation goes for modernization without abandoning the basics of an affordable basic iPad. Worth buying?
The new iPad is new in many ways, yet a closer look reveals the same age-old idea that helps Apple keep the cash registers flowing for the iPad department. A new design and a bunch of internal upgrades make the Apple iPad 10th Gen a tablet to be reckoned with, especially for those looking for an affordable laptop replacement, or those who want a fancy new tablet. At the same time, it compromises enough to make you take a look at the iPad Air 5th gen, which in turn pushes you to the iPad Pro range. O Apple!
Aside from Apple's clever marketing strategy, the new iPad brings some major changes from its predecessor, which continues to sell for a lower price. Are these upgrades good enough to make you cough Rs? 44900 for the basic 64GB WiFi version?
iPad 10th generation design
The new iPad gets the new iPad-like looks. It borrows the basic design from the iPad Air 5th Gen and that makes for a nice overall fit and finish. It is quite lightweight and is excellently built. The Touch ID sensor is now on the power key and there's a USB-C port; the latter is a great help to charge it anywhere. Unfortunately, Apple wanted to keep costs down with a non-laminated LCD screen and that makes this iPad thicker.
Like the old iPad, the iPad 10th Gen retains its magnetic POGO pins for accessory connectors. It makes no sense with the Folio case, but is the lifeline for the Magic Keyboard Folio, which costs an extra Rs. 24900. Too pricey for a case with a keyboard and trackpad, but usability goes up a notch or two. Hitting the keyboard case makes the iPad a bit heavier.
iPad 10th generation display
Apple offers a 10.9-inch IPS LCD display on this new iPad, surrounded by remarkably thick but uniform bezels. This isn't the best tablet screen in this price segment, given the lack of support for the DCI-P3 color gamut and a non-laminated panel. Once you get used to it, this screen seems good enough for everyday iPad chores like watching movies, or scrolling through social media apps, working on a document, or attending video calls. Brightness levels are decent, but sunlight readability isn't good. And it supports the first-generation Apple Pencil, which means noticeable latency when scribbling or drawing.
Performance iPad 10th generation
With an increased starting price, the new iPad can't be happy with just being a simple tablet. It competes with laptops and therefore it has to perform. In my two weeks with the iPad 10, I'm happy to report that this could actually be your laptop replacement, provided your work revolves around documents and basic computing.
The iPhone 12's A14 Bionic is used for work, and under typical iPad loads, it's more than comfortable to handle it all. I threw in some office-level multitasking with the Chrome browser handling 5-6 tabs, a Pages document, and Apple Music streaming in the background – the iPad 10th Gen was happy to manage it all. I even play Shadow Fight 4 matches every few hours and it's all handled well.
Of course, iPadOS 16.1 plays a major role. The fancy Stage Manager doesn't make it to the base iPad, but iPadOS 16.1 gets all the clever sharing goodies of iOS 16 and improved performance. You can run up to three iPad apps at the same time, and the keyboard case makes it feel very macOS-like. The trackpad cursor is odd and I'd still like a conventional arrow instead of a circle. I also like the copy feature on image subjects and the smart text copy of photos. And if you use a MacBook for work, the integration between these two devices is fantastic: you can use your Mac keyboard and trackpad to control the iPad!
Aside from that, the iPad 10th Gen also impresses when it comes to audio performance. There's a stereo speaker setup here that's loud enough while producing good quality audio. Usually these speakers are great for movie nights or YouTube channels.
Apple has also moved the 12MP FaceTime camera to the horizontal top, meaning that during your video calls, you'll look normal with your eyes centered; not off axis. The quality of the camera is decent, although it struggles with harsh light exposure. The rear camera is pretty good for a tablet and for scanning documents or doing AR stuff it does the job well enough.
If you opt for the Cellular model, the iPad 10th Gen supports 5G connectivity in addition to 4G LTE connectivity. So if you're planning to get the big 5G upgrade, this iPad can manage your fast data needs.
Battery life
The basic iPad was always about long endurance and if you use it daily for 2-3 hours as a regular tablet, the iPad will easily last 2-3 days. That's the same case with the iPad 10th Generation, provided you stick to Wi-Fi connectivity. With more video calls, stamina drops dramatically and you'll need that 20W Apple charger within reach by the end of the day. Or you can use any USB-C charger to top it up.
Verdict
The iPad 10th Generation is a mega upgrade over the antique iPad 9th Gen model – the new design coupled with a better screen and faster overall performance make a good case for this new kid on the block. However, at the starting price of Rs. 44,900, the iPad 10th gen, much like a tablet, is too expensive for what it offers, especially for a device that is a culmination of stuff from the trash with old parts. Apple hasn't done enough to justify the higher price. The display could have been much better, as could the chipset (the A14 is good, but the A15 would make more sense in 2022).
Most importantly, Apple persuades you to buy its new Magic Keyboard Folio to turn it into a true laptop replacement. Add a Rs. 25,000 accessories for the base iPad 10 puts it almost on par with several Core i5 Windows laptops, and doing the same on a 256GB model pushes it into the MacBook Air category. Even if you want an exorbitantly priced iPad, the iPad Pro M2 makes more sense, and a cheaper Bluetooth keyboard would suffice instead of the Magic Keyboard accessory. Plus, the weird case of the 1st gen Apple Pencil and a new Lightning to USB-C dongle makes it all… aargh!
Then why buy the iPad 10th generation especially when the 9th generation iPad sells for Rs. 30000? Any sane mind wouldn't do that. That older iPad may look old, but it does all the same iPad stuff for a much lower price. Yes, the new iPad 10th Gen is a major upgrade over its predecessor, but its higher price tag makes it hard to justify, even for an iPad fan. I'd rather spend more and buy the iPad Air for its M1 chip and a much better screen.
Perhaps when Apple kills the 9th generation iPad, this iPad 10th generation will become the de facto choice for budget iPad buyers. But even then, Apple just made it easy for tablet shoppers to check out what Samsung has to offer.
product name
Apple iPad 10th generation
Advantages
Looks modern
The USB-C port is here, finally
Good battery life
Cons
Average display quality
Too pricey
Old accessory support only