Entertainment News Live Updates 17 November 2022 Bollywood News Celebs update Tollywood News Hollywood News Updates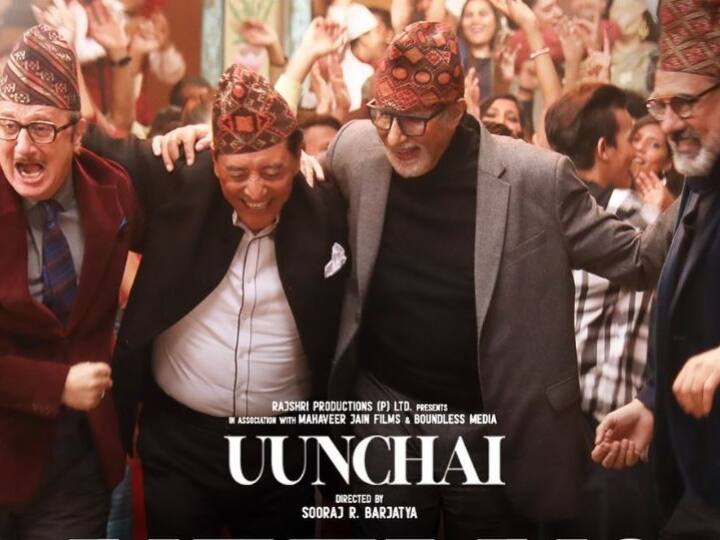 Entertainment News Live: Bollywood film 'Unchai' is maintaining its strong hold at the box office. Because of which the box office collection of Uunchai is increasing rapidly every day. Viewers are very fond of this film of famous director Sooraj Barjatya. Ukti, which released in theaters on November 11, is impressing everyone with its amazing performance. Even on the sixth day of release, this film has got a lot of audience in the theatre. Meanwhile, look at the box office collection of the 6th day of the height, it is doing well. According to the Box Office India report, director Sooraj Barjatya's height has collected 1.65 crores on Wednesday. Because of which the total box office collection of the film has reached between 15-16 crores. If this film continues to earn at the box office at the same rate, then very soon it will cross the figure of 20 crores. Made in a low budget, this film is being praised everywhere.
Mithila Palkar trolled for her dress
After a long wait of two years, ELLE Beauty Awards 2022 was organized in Mumbai last night. During this, many beautiful actresses of Bollywood and TV world were seen under one roof. During this, many divas got compliments for their looks. So at the same time many had to be trolled for their dressing sense and look. 'Little Things' fame Kavya i.e. Mithila Palkar is also being trolled a lot. Mithila Palkar had also arrived to attend Elle India Beauty Awards 2022. During this, Mithila wore a short black dress with curly hairs. Her dress was shoulderless and looked quite strange. During this, Mithila wore a white necklace along with a short dress and did minimal makeup to complete her look. At the same time, Mithila is being trolled for wearing a strange dress at the Awards Nights.
Ban on Pakistani film 'Joyland' lifted
Authorities in Pakistan have lifted the ban on filmmaker Saim Sadiq's film 'Joyland'. After which this film can be released on Friday. Let us tell you that the director of 'Joyland' is Saim Sadiq, recently the trailer of the film was released on November 4, but the film was banned by Pakistan even before its release. The Ministry of Information and Broadcasting had banned the film, saying it had 'highly objectionable content'. On Wednesday, journalist Rafe Mehmood, writing for the Express Tribune, tweeted, "After full board review by the censor board, #Joyland has been cleared It has been allowed to release in Pakistan with minor cuts. Distributors are looking forward to release on 18th November as initially planned. Congratulations to the entire team and all the people involved in the promotion." He also mentioned that the film was never banned officially, however, now the film distributors are waiting for the NOC certificate to take things forward.
Read this also: – Bigg Boss 16 Day 47 Written Update: Theft from 'Raja's godown' in the house, Sajid and Archana's fierce fight, know-the complete update of the 47th day