Varun Dhawan Talks About Films With Cringeworthy VFX Kriti Sanon Looks On Awkwardly | Varun Dhawan On VFX: Varun Dhawan said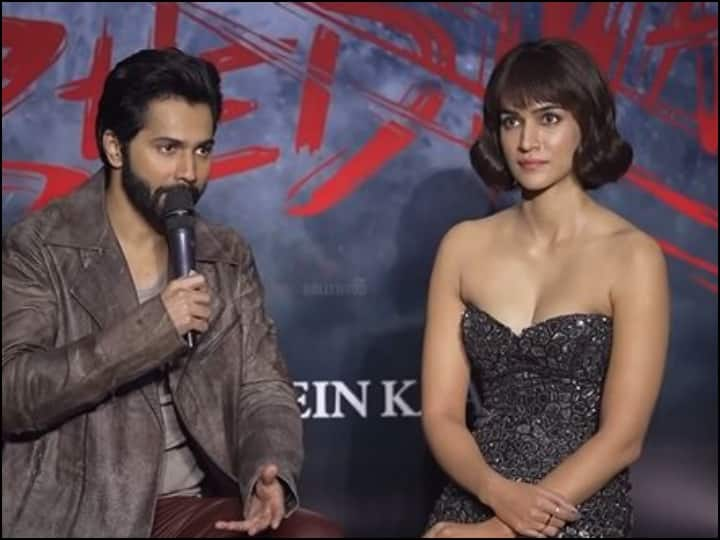 Varun Dhawan On VFX: These days Varun Dhawan is busy promoting his next film Bhediya. To this, Varun Dhawan admitted that he has been a part of films with bad VFX and was forced to praise him during promotions.
During this, Kriti Sanon was also present with her, while talking about bad VFX, Kriti's reaction is now going viral on social media. Actually the matter is that another film of Kriti Sanon, Adipurush was in controversy due to its poor VFX in the past. Now the fans are trolling by linking his reaction to the same. The audience did not like the trailer of Aadipurush so much that the release of the film had to be postponed and a decision had to be taken to redo its VFX.
Varun gave this statement
Speaking about the quality of VFX in films, Varun Dhawan said, "Indian cinema, we are ready for it and we are not going to settle for less. I have acted in a film where the VFX has been poor, I would have definitely said so during the promotions – but obviously, then no one will criticize it. There have been tough moments in VFX, but I haven't had them. But I can try to work with directors and producers who can bring about that change. So I think I am more responsible." While he was speaking, Kriti Sanon smiled awkwardly and looked away and whispered something to the person sitting next to her.
Om Raut gave this statement
Filmmaker Om Raut had earlier defended Aadipurush's VFX, saying that the film was meant for the big screen and a short teaser on YouTube could not capture the scale. "I was definitely disappointed, not surprised because the film is made for a big-medium-big screen. You can reduce it to some extent but you can't bring it to mobile phones. It's an environment that I love." Can't control. Given a choice, I'll never put it on YouTube, but it's the need of the hour."
Later, he issued a statement declaring that the film has been extended till June 2023, so that the team can do 'complete justice' to Lord Ram's vision. Meanwhile, Varun Dhawan will next be seen in the horror comedy Bhediya, which is reportedly a part of the 'Stree universe'. In the film, Varun Dhawan is bitten by a werewolf, which gives him superpowers. 'Bhediya' is directed by Amar Kaushik and will release on November 25.
Also read:- KBC 14: Big B asked this simple question for 12 lakhs, even after lifeline, the contestant made a mistake, also lost the winning amount