Kamaal R Khan Aka KRK Trolled Avneet Kaur People Remind Him Her Daughter | KRK did such a controversial tweet for Avneet Kaur, people said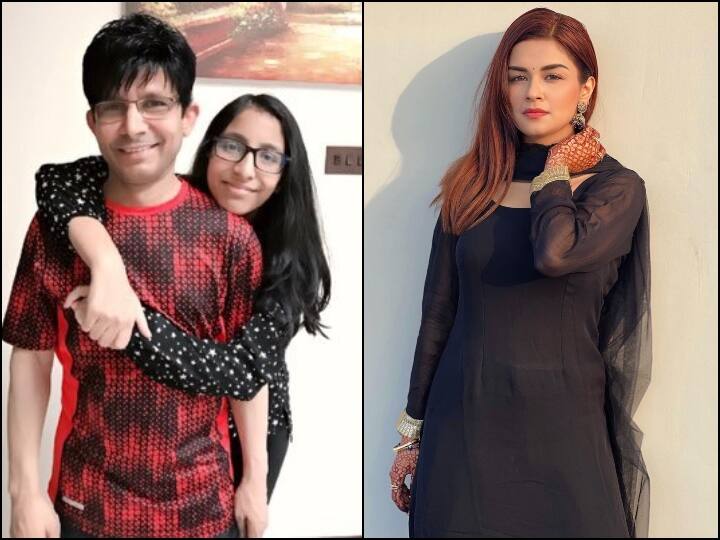 KRK Troll Avneer Kaur: Actor and producer Kamal Rashid Khan remains in the headlines due to his controversial statements more than his films. Kamal Rashid Khan, popularly known as KRK, keeps targeting Bollywood celebrities every day. Many times he has to face jail air due to trolling of celebs. However, even then he does not give up. Now he has trolled TV actress Avneet Kaur badly.
KRK trolls Avneet Kaur
KRK has made a tweet on Twitter handle trolling Avneet Kaur and made fun of her. The actor shared a throwback photo of Avneet and wrote, "You can't say anything about public's choice. This girl Avneet Kaur has 33 million followers on Instagram. If you see it in real from the front, then you will fall unconscious after getting dizzy.
You can't say anything about the choice of public. This girl #AvneetKaur is having 33 Million followers on #Instagram! Aur Agar Aapne Isko Saamne Se real Main Dekh Liya, Toh Aap Chakkar Khakar Behosh Hokar Gir Padoge!🤪 pic.twitter.com/UGYiUInjkQ

— KRK (@kamaalrkhan) November 8, 2022
After this KRK made another tweet and explained the reason behind saying this and said, "I mean to say, it is not necessary that people like someone for their looks and many other things can make people a star. Huh." After this tweet of KRK, he himself is getting trolled badly.
Fans trolled KRK
One user said, "Looking at yourself, you see a bat of China." Another commented, "And if someone sees you… then he will ask… who is this one and a half footiya." A user reminded KRK of his daughter. He said, "What if tomorrow someone writes the same thing about your daughter? Why is he saying this about someone else? The fear of the one above is amazing. One asked him, "Are you Chris Hemsworth yourself?"
Apne aap ko dekh china ka chamgadad dikhta hai bkl

— Harshita (@Harshita_069) November 8, 2022
Aur agar koi tuje dekh le… to poochega.. yeh 1.5 fotiya kaun hai?

— Abhi (@DCartoon13) November 8, 2022
What if somebody posts the same thing about your daughter tomorrow ? Man become a better human. Why to say bad things about anyone. Upar waale se darr kamaal

— Your mate (@Nighty845768111) November 8, 2022
tun khud chris hemsworth hai?

— (@PBX1Foreva) November 8, 2022
Shame on u..what u say about a girl?..u have a daughter also..really disappointed with u today..Avneet is good dancer and actress also she is good looking..apne aap ko dekho deshdrohi movie me logo ne ultiya krdi thi ..

— Bhavana (@BhavanaPanchar2) November 8, 2022
Avneet Kaur's Bollywood Debut
Avneet Kaur, who started in the TV industry as a child artist, will soon be seen in Bollywood. She will be seen in Kangana Ranaut's production film 'Tiku Weds Sheru' opposite Nawazuddin Siddiqui.
Also read- After the flop of Goodbye, Amitabh Bachchan folded his hands in front of the fans for 'height', said – big hit is going on…