Kaun Banega Crorepati 14 Amitabh Bachchan Got Emotional To See His Wife Jaya Bachchan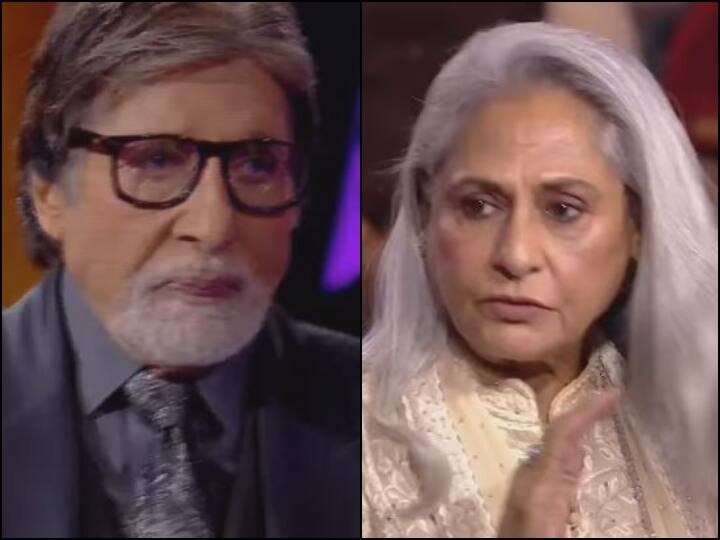 Kaun Banega Crorepati 14 Promo: Bollywood actor Amitabh Bachchan is going to turn 80 soon. On the occasion of his 80th birthday, the makers of KBC 14 planned a surprise in the show and his wife Jaya Bachchan and son Abhishek Bachchan were called on the KBC stage. This moment is going to make Big B emotional. In the upcoming episode, it will be seen how he is unable to stop his tears after seeing his wife and son.
Amitabh Bachchan's 80th birthday is on 11 October 2022. Big B has been associated with KBC for the last 22 years. In such a situation, this time on the set of 'Kaun Banega Crorepati 14', the makers kept a surprise on his birthday. His wife Jaya and Abhishek surprised Big B by suddenly coming on stage. The promo of the upcoming episode has been shared by Sony TV on Instagram account.
Big B cried seeing Jaya in KBC
It can be seen in the video that, Abhishek Bachchan is sitting on the hotseat in front of his father Big B and he called his mother Jaya through Big B's famous dialogue. Seeing his wife Jaya on stage, Amitabh Bachchan gets emotional and tears start pouring out of his eyes. Not only this, Jaya Bachchan says such a thing for Big B in front of the audience, after which Amitabh is unable to stop his tears. It will be known in the October 11 episode that what Jaya is going to reveal about Big B.


Abhishek Bachchan also hugged
Sony TV shared another promo on social media. In the video, when Amitabh Bachchan comes on stage to start the show, only then the horn sounds and he is surprised how the game ended as soon as it started. Then Abhishek Bachchan comes after them and Big B is unable to stop his tears seeing the son. He starts crying loudly to his son.


read also
Bigg Boss 16: Shiv Thackeray's personal comment raised MC Stan's mercury, even abusing in anger did not stop
Bigg Boss 16: Mandana Karimi left Bollywood after Sajid Khan entered Bigg Boss, said- 'There is no respect for women here'