Varun Dhawan Tries To Copy Allu Arjuns Srivalli Step, Watch This Funny Video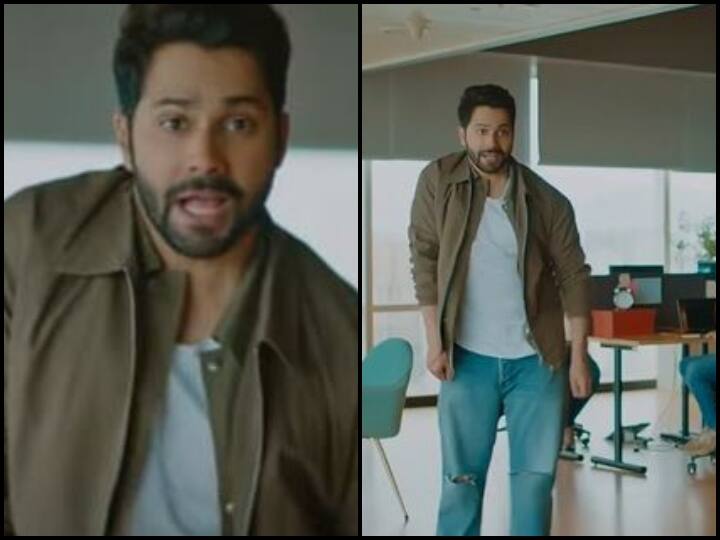 Varun Dhawan Tries Srivalli Step: Bollywood actor Varun Dhawan recently tried to recreate Allu Arjun's Srivalli signature step and of course he failed miserably in it. Actually Varun Dhawan shot a video for Prime Video in which he was seen doing this. In this video, Varun has become a person who has a lot of plans and is trying to find some secrets of Prime Video. But all his plots failed and he ended up with a broken ego.
Varun, who had screened many of his films on Prime Video, was fed up with people asking for some insider information about the streaming service and decided to find out something about his projects in an earlier promo released by Prime Video. Varun Dhawan was shown planning to find some secrets. Now in this video, he is seen working on his plans.
Varun's all plans failed
This video of Varun with Prime Video is fun in which Varun raised the budget file for Raj & DK's crime thriller film 'Farjee', which will be Shahid Kapoor's OTT debut. The actor came to know that Shahid's hairstyling budget is three times more than his hairstyling budget. As the cameraman told him that Shahid's hair is also three times better than his, Varun replied, "Whatever, I am a better dancer." He is speechless when he is asked, "Are you there?" Later, Varun hooked up a Bluetooth device to an employee while clicking selfies with the staff, and used it to spy on them as they discussed which actor they wanted to work with. The staff named Aditya Roy Kapur, Alia Bhatt, Shah Rukh Khan, Salman Khan, Akshay Kumar, Hrithik Roshan, Tiger Shroff and even Varun's brother Rohit Dhawan, but not his.


Varun got excited to hear Vijay Deverakonda as he thought he had heard his name. Disappointed Varun said, "What about me? I know these south heroes are having amazing and absolute respect for them. But… I can dance like them too." After being told that he could not, he accepted the challenge and performed Allu Arjun's footsteps from his songs Srivalli and Sami Sami from his 2021 release Pushpa.
Also read:-
Twinkle Khanna shared pictures from daughter Nitara's birthday party, a glimpse of the grand celebration
Big relief to Sonakshi Sinha, 29 lakh foreign tax credit dispute decided in favor of actress