Raju Srivastav Wife Shikha Srivastav Gets Emotional At Comedian Prayer Meet Says Meri Toh Zindagi Chali Gayi Watch Video | Wife Shikha badly broken in Raju Srivastav's prayer meet, said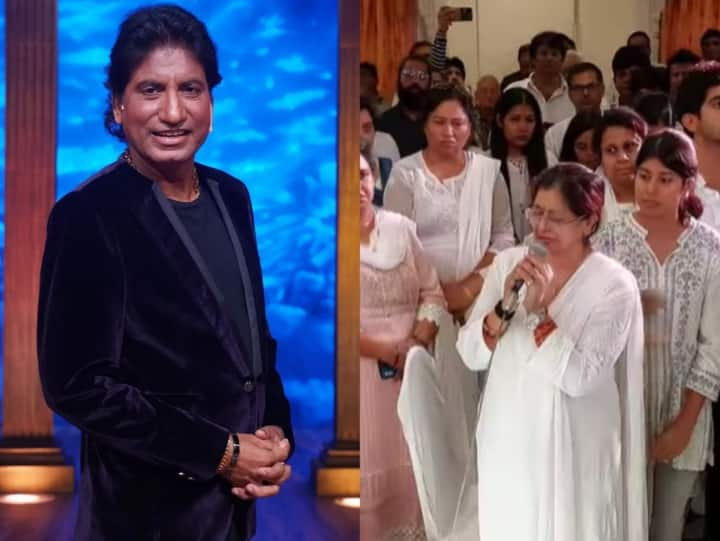 Raju Srivastav Prayer Meet: Famous comedian Raju Srivastav left this world saying goodbye on 21 September. He was admitted to AIIMS Hospital in Delhi after having a heart attack. There was little improvement in his condition. Raju Srivastava's treatment at Delhi's AIIMS Hospital lasted for 41 days. There he breathed his last. Raju Srivastava was cremated on 22 September at Nigambodh Ghat in Delhi. Raju Srivastava's prayer meet was held in Mumbai on Sunday. Where many Bollywood and TV celebs had arrived to pay tribute to him. Raju Srivastava's family is going through a difficult phase at the moment. Raju Srivastava's wife Shikha Srivastava broke down badly in the prayer meet. After which his daughter was seen handling him.
Many artists including comedian Johnny Liver, Sunil Pal, Kapil Sharma, Bharti Singh, Kiku Sharda, Shailesh Lodha had reached Raju Srivastava's Prayer Meet. The eyes of all the stars looked moist. A video of Prayer Meet is going viral in which Raju Srivastava's wife is seen crying.
Shikha Srivastava gets emotional
During the prayer meet, Raju Srivastava's wife is asked to say two words. She says – what should I say, there is nothing left to say, my life is gone. Everyone prayed a lot, doctors tried their best. We all tried a lot but made everyone laugh and would have been making everyone laugh there by going upstairs. Laugh everyone there too. Be happy, be at peace. Thanks to you all. Everyone has been very supportive. We have our strengths, we have pillars. Thank you very much everyone.
Johnny Liver remembers Raju Srivastava
Johnny Liver interacted with the media during the Prayer Meet. He said- The days of Raju's struggle started with me. We had a family relationship and we were neighbors too. So you can imagine how sad I would be. We have lost a wonderful artist. He has made people laugh for many years but he suddenly passed away. This is a huge loss for standup comedy.
Also read: DID Super Moms 3 Winner: Haryana's daily wage laborer Varsha Bumra won 'DID Super Moms Season 3', got so much prize money
Money Laundering Case: Jacqueline Fernandez will appear in Patiala House Court today in the cheating case of 200 crores, the court had sent summons