Sonam Kapoor And Anand Ahuja Announce Their Son Name Vayu Kapoor Ahuja, With This Photo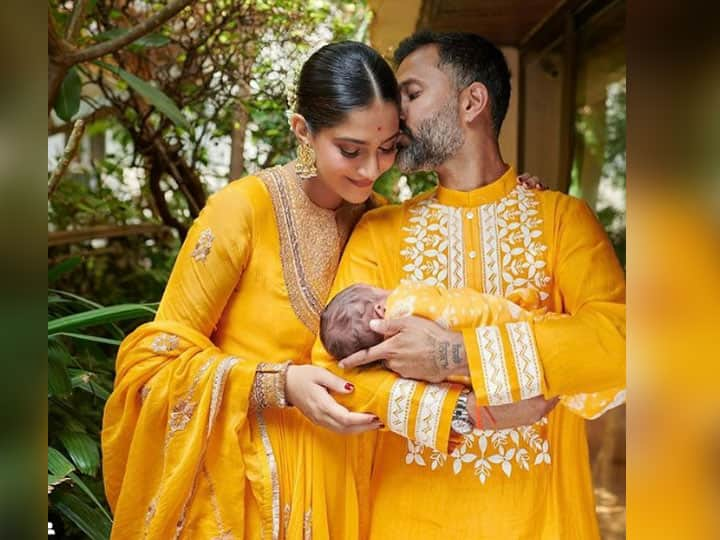 Sonam Kapoor Son Naming Ceremony: The discussion about the naming ceremony of the son of Sonam Kapoor and Anand Ahuja was going on for the last few days. Today i.e. on September 20, Sonam has shared a photo with the naming of her child. In this photo, she is seen with husband Anand Ahuja and son. Sonam Kapoor also announced the name of her son with this photo (Sonam Kapoor Son Name) and also shared a glimpse of the little one with the fans.
Sonam Kapoor announces son's name:
Sonam Kapoor has named her son Vayu Kapoor Ahuja. Along with the name, Sonam Kapoor has also written in the caption, 'Vayu is one of the five elements in Hindu scriptures. Hanuman is the spiritual father of Bhima and Madhava and he is an incredibly powerful lord of the wind. With these meanings, Sonam Kapoor has announced the name of her son Vayu. In the latest photo, Sonam Kapoor and Anand Ahuja are seen showering love on their son. In the photo, all three yellows are seen in the traditional dress of yesterday.


Sonam Kapoor's son's naming ceremony:
The smile on Sonam Kapoor's face and her beauty is winning the hearts of fans in this photo. Let us tell you that Sonam Kapoor is celebrating the first month of the child's birth with the naming of her son. Sonam Kapoor gave birth to a son on August 20, her sister Rhea Kapoor shared some pictures of the baby from the hospital but the face was still shown as new.
Sonam Kapoor showed a slight glimpse of Vayu Kapoor Ahuja in this photo but the face is still not shown to the fans. These days the actress is at her father Anil Kapoor's house where this naming ceremony took place. Anil Kapoor is also very excited about becoming a maternal grandfather, whose post he has shared earlier.
read this also:
Modiji Ki Beti Trailer: 'Modiji's daughter' was kidnapped by terrorists, demanded Kashmir in return
After this mother's talk, Kangana had eaten meat for the first time, had said – I eat beef but snakes and octopus…