Moto Tab G62 LTE Review: Just a step too short to be a budget all-rounder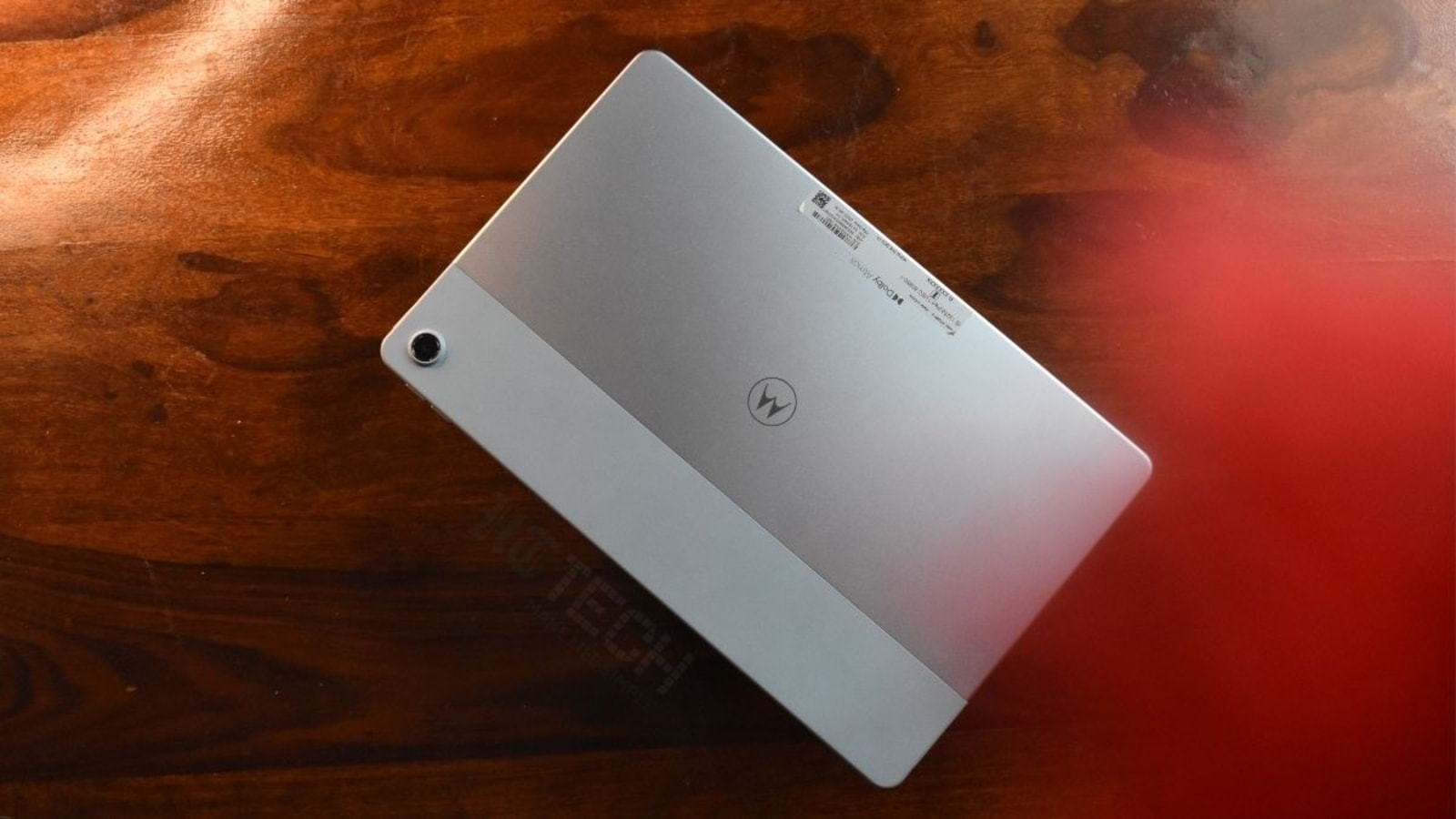 The Moto Tab G62 LTE has a large, color-rich screen, quad speakers and good battery life under Rs. 20,000. Should you buy it? Read the full review to know.
It will be greedy to ask for anything from a budget tablet. Under Rs. 20,000, tablets are all meant to provide a decent viewing experience with an array of great speakers and a decent performance to handle your daily tasks from reading to browsing. And the new Moto Tab G62 LTE fits the budget tablet description perfectly. At least that's what the specs say! It gets 4G connectivity to let you make calls without Wi-Fi range, a face unlock system, quad speaker configuration and stock Android experience to keep the device simple and useful for everyone – all at the cost of Rs. 17,999. While bringing some of the interesting and essential features on board, the Moto Tab G62 will be a perfect budget tablet against the tough competition from Realme, Oppo, Samsung and others? Let's find out.
Moto Tab G62 design
As usual, Motorola is following its long-standing tradition of wearing a minimalist design, which we've seen in its Android smartphones and now on tablets. Like its previous attempt at Moto Tab G70, it gets a two-tone design – more than half dipped in a metallic matte finish, while the rest is plastic that picks up the occasional smudge. It looks simple yet elegant in its only Frost Blue color shade. At 465 grams, it doesn't feel heavy with its great work on the weight distribution, but it can still be uncomfortable to use for long hours. The sturdy build quality, an IP52 rating and the presence of a 3.5 mm audio jack are also some of the winning points of the Moto Tab G62 at this price.
On the front, it has identical thick bezels on all sides and a selfie camera in the center of the right side to give a more laptop-like feel during video calls. Still, you won't find a keyboard cover to make it work like a laptop or a stylus (despite the fact that it supports Pen functions!). That means you'll have to spend an extra penny to get one, and sweat it out in the third-party accessory market!
Moto Tab G62 Screen
One of the main goals of getting a tablet is a big screen. Sure, your smartphone can do almost anything, but to have a great experience for binge-watching, reading, or perhaps scribbling – here are tablets for. And the Moto Tab G62 does a good job at this. It features a large 10.6-inch LCD screen with up to 2K resolution, which is bright and vibrant. Widevine L1 support allows you to enjoy Netflix and Amazon Prime shows in HD, while YouTube videos are limited to 1080p. Another spiky thing is that it gets the base refresh rate of 60Hz and the effect is visible in scrolling and moving animations. That said, the screen is good for hours of video watching, even though we would have preferred a more vibrant display quality.
Moto Tab G62 Performance
And.. that entertainment display is coupled here with Dolby Atmos quad speakers to enhance the experience! It's loud, clear and provides decent bass to the ears. The rest depends on the Snapdragon 680 chipset, which offers slow performance for most tasks. Reading, browsing the web and putting in long hours with the Moto Tab G62 for binge-watching are fine. But when it comes to multitasking, social media scrolling, or gaming, the lags and jitters will test your patience. The gaming experience with the Moto Tab G62 is strictly limited to basic games such as Subway Surfers, Temple Run and more for a shorter duration. We have seen that the Oppo Pad Air with the same chipset is optimized in a much better way, and I believe Motorola can do the same – this tablet is in dire need of optimization.
Motorola brings its stock Android-like experience with the Tab G62, which comes standard with Android 12. That means, no adware, no bloatware. Widgets and animations are there, but it is limited in wallpapers and other customization options.
The Moto Tab G62 also gets an 8MP rear camera which is good for scanning documents, but don't expect much for capturing detailed images, even in well-lit areas. Surprisingly, it also gets the same 8MP front camera, which is great for quick video calls and quickly unlocking your device with facial recognition.
Unlike many other budget tablets, the Moto Tab G62 LTE offers 4G connectivity in addition to Wi-Fi at this price, so you can make calls just like your smartphone. With my Airtel 4G SIM card, the calling experience was seamless with no issues.
Moto Tab G62 battery
The endurance of the Moto Tab G62 with its 7,700 mAh battery means it can handle all your tablet stuff for 1.5-2 days. That includes playing casual games, watching videos, some quick video calls, and browsing the web religiously. Even with casual things like reading and watching series, you can easily get through up to 3 days with it. Unfortunately, the long battery life settles for 20W charging support, which takes about 2 hours and 15 minutes to crank it up from 1-100 percent.
verdict
The Moto Tab G62 LTE could be a perfect budget tablet for those looking for a huge and colorful screen, as well as rich and loud sound to make it your favorite binge-watching device. Even the battery life is impressive. In addition, the presence of 4G connectivity, a 3.5 mm audio jack and the unlocking system with facial recognition add to the value. Cameras are good for taking care of random scanning tasks and video calls.
But he skipped checking the most important checkbox: performance and user experience! And that just ruins the overall experience of the Moto Tab G62 LTE – even basic tasks make it frustrating to use. Perhaps a better chipset or better optimization could have solved this loophole. But here Motorola missed a great opportunity to deliver the best budget tablet.
Then why should you buy Moto Tab G62 LTE? There aren't many reasons to recommend this tablet over its competition. Still, if all you need is a tablet to catch up on your weekly shows or something for your kids, then you might want to consider this. Otherwise, the Oppo Pad Air is here for you with a better overall user experience. While paying Rs. 2000 more, the Realme Pad X offers a much better chipset, a good set of cameras and an even longer battery life.
product name
Moto Tab G62 LTE
Pros
Long battery life
Four speakers
cons
Slow charging
Non-optimized user interface
Showing up too late