Ranveer Singh Trolls For Getting Foot Masaage From Maheep Kapoor In Fabulous Lives Of Bollywood Wives 2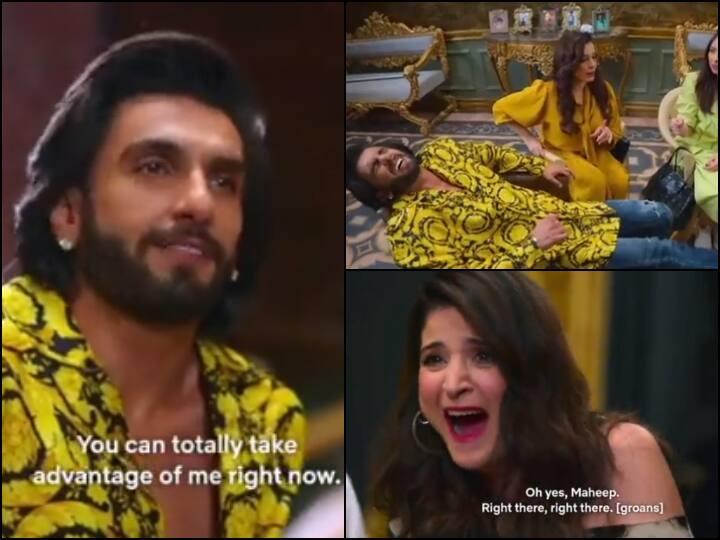 Ranveer Singh Trolled: These days the web series 'Fabulous Life of Bollywood Wives Season 2' released on Netflix is ​​in a lot of discussion. This show has been released only last week and this time also it is on the target of trollers on social media. The first season of the show was also in a lot of controversies. Made in Karan Johar's production, the show showcases the lifestyle of the wives of big Bollywood stars. Also, many stars are seen participating in it. This time there has been an uproar about an episode of the show in which Bollywood actor Ranveer Singh was seen.
'Deepika take care of your husband'
In an episode of Season 2 of this reality show, many controversial scenes and dialogues have been shown. Fans on social media are unable to digest Ranveer Singh's actions and his words in this episode. Short clips of the episode are going viral on social media, after which users trolled Ranveer Singh badly. Even the users appealed to Deepika Padukone to handle her husband.
Problematic statements made by Ranveer Singh-
1) Asking Anushka if she wants her ass pinched
2) Making a statement about how watching Kareena work out in the gym made him into a "man"
3) Bragging about how he has more IQ than all his gf
4) Asking a journo if she wants lovebite https://t.co/eEmblEG2ap

— positivity (@Adhk252) September 4, 2022
Former actress Neelam Kothari, Maheep Kapoor, Bhavna Pandey and Seema Sajdeh are seen in the show. The show is based on the lives of these actresses. Especially Maheep has come in more discussion than this show. She is the wife of actor Sanjay Kapoor. In an episode, these four actresses are chilling on the sets of Ranveer Singh's upcoming film 'Rocky Aur Rani Ki Prem Kahani'. That's when Ranveer Singh is seen doing a cameo here.
Ranveer Singh's bad words
In the video, Ranveer Singh is seen talking to all the actresses. He talks in his supercool style focusing on Maheep. Ranveer calls himself a 'battery operated device' and not only this, he asks Maheep to do foot massage, saying that he has sprained the leg. While Maheep Kapoor gives foot massage to Ranveer Singh, Ranveer is making strange sounds. Seeing this, users got angry on social media.
That's why Ranveer got trolled
Ranveer Singh is married and he is married to actress Deepika Padukone. In such a situation, people did not like Ranveer to take foot massage from another actress and do such an act. Although Ranveer Singh's entry in the reality show has been done to add temper, but on social media, users lashed out at Ranveer and called him Chichhora. Even a user taunted him by calling him the world's best husband with open marriage.
Open marriage wala world's best husband

His choice I guess

PR king husband, PR queen wife wala power couple @CuriosityGone @apparitionnow @WalkingCraisin @PathaanJan25 @sugarandsp1ce @exultantdreamer @pika_pikkaa @BannoReBanno https://t.co/Hu5kIRIJ9d

, (@ttxxx1111) September 4, 2022
One Twitter user wrote, "Deepika, take care of your husband, this man is nothing but shamelessness and embarrassment."
deepika please come get your man. dude is a fucking embarrassment. pic.twitter.com/AqfdVjSTev

— Pramit (@pramitheus) September 2, 2022
After watching this scene, people are trolling Maheep Kapoor and Ranveer fiercely on social media. One Twitter user wrote, "It was very strange for me to see Ranveer Singh behave like this on a TV reality show."
Another Twitter user wrote, "Ranveer Singh, just focus on the legacy you want to create, because I know you can only do that."
I know this is staged, scripted but all l want to say is this doesn't help his image in anyways. I just hope it isn't too late by the time he finally disassociates himself from Karan. @RanveerOfficial focus on the legacy you want to create because am sure this ain't it. https://t.co/EdpCMyhzM5

— Lovely (@lovelydutta6) September 4, 2022
A third user wrote that hopefully Ranveer will be able to know after doing all this that he is really pretending.
You see this act her by RS is exactly why I won't ever fall for how he treats DP in front of camera. It's nothing special to him. He behaves like this with everybody..man or woman. It's embarrassing for her at this point. A whole married man doing this.. RK would never. https://t.co/jyIgpZ1oQp

— A (@Kelcadylinaa) September 4, 2022
Karan Johar recently shared a post and informed the fans that his 'Fabulous Life of Bollywood Wives' is trending at number one in India. This show is also trending globally on Netflix.
KRK Gets Bail: Kamal R Khan gets bail in controversial tweet case, what is the whole matter?
Rakhi Sawant apologizes to boyfriend Adil for this act, fans were shocked to hear