Pakistani Actress Hania Amir React On Female Employee Allegedly Gang Raped By 22 Men In Pakistan
Hania Amir On Rape: Pakistan's well-known actress Hania Amir often talks about social issues. Haniya is one of those Pakistani actresses who openly express her opinion about anything and raise her voice through social media. Now recently, through her Instagram, Haniya has shed light on an incident in Pakistan on which the channels of Pakistan themselves are not talking. We are not saying this, but the claim is being made in the post shared by the actress.
According to Haniya's post, a girl has been gang-raped by 20 to 22 boys in a multinational company in Pakistan. The sad thing is that this news has been suppressed against which now Haniya has raised his voice.
What is the whole matter?
Haniya has shared a lot of back-to-back posts on her Instagram story, in which it is written. In a company named 'Artistic Milliners', a female employee of the same place was raped by 20 to 22 boys in the night. Neither it is being talked about nor any such case has been reported on any channel. It has been told in the post of the actress that those boys are associated with the HR department of the company. The girl died after this incident. The management has given strict instructions that no one will talk to anyone about this. No news…no hashtags, nothing'.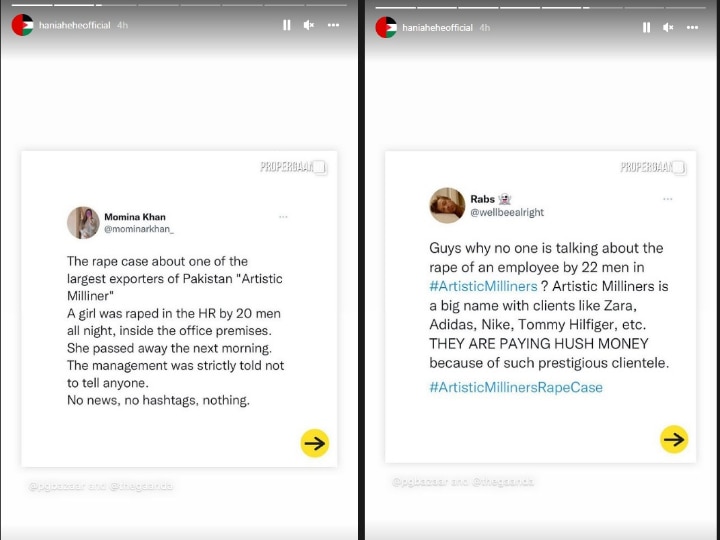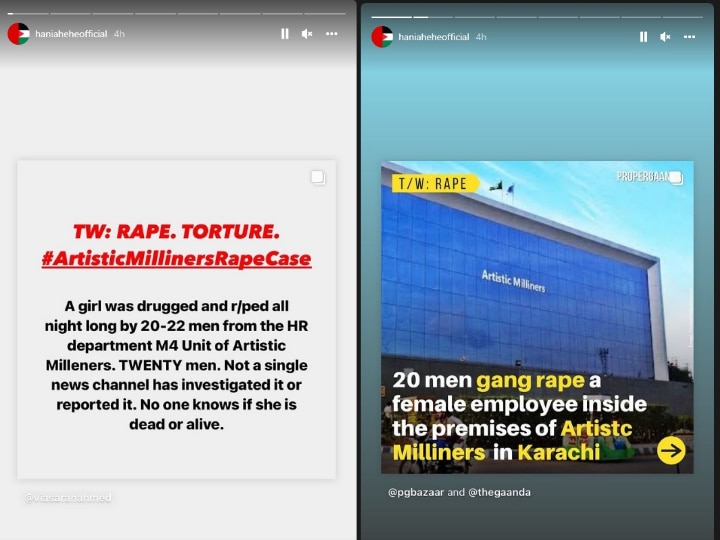 Police said nothing happened.
While the Pakistani actress has raised this news, the police say that no such incident happened, it is fake news. Talking to Dawn.com, the Deputy Inspector General said, 'No such incident has happened after the police investigated the matter. Management says that this is being done to defame them. On the other hand, Senior Superintendent Faisal Bashir has called it false news.
Shocking news from Karachi. 20 men raped a girl in Artistic Milliners office and the next day the girl passed away.

Social media walaya feminist mard or ortay with huge following, please share and spread this as the company is trying to bury it! #artisticmillinersrapecase

— Ali Raza (@shezanmango) September 6, 2022