Sidharth Shukla First Death Anniversary Prayer Meet Mother Rita Shukla Got Emotional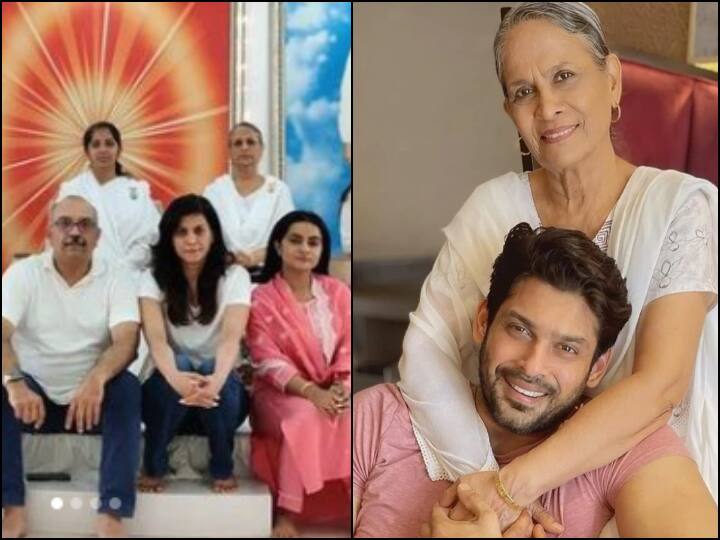 Sidharth Shukla Prayer Meet: It has been a full year since TV actor and Bigg Boss 13 winner Siddharth Shukla left the world today. There has been a flood of social media in memory of the late TV actor. Everyone is remembering Siddharth. Fans are seen praying for Sid to return.
Here Siddharth's mother (Sidharth Shukla Mother) is sad in the memory of her beloved son. Sid's mother Rita Shukla organized a prayer meet on the son's first death anniversary. He had worshiped for Sid in the ashram of Brahmakumari. Here Siddharth Shukla's mother and the entire family together prayed for the peace of Sid's soul.
Many pictures of prayer meeting have surfaced on social media, in which Sid's entire family (Sidharth Shukla Family) is visible. Siddhartha was an ardent follower of the Brahma Kumaris and often attended their meetings with his mother. A fan account has shared many pictures of this meeting on Instagram. In one of the pictures, the family is seen posing with the Brahma Kumaris and in the photos, Sid's sisters are seen distributing prasad to the people present there.


TV actor Siddharth Shukla died at the age of 40 due to cardiac arrest. He had a tremendous fan following on social media. In the house of Bigg Boss 13, there was a tremendous craze among the fans for Siddharth Shukla. Siddharth Shukla is still ruling the hearts of his fans. On social media, people were very emotional in his memory.
It's been one year #SidharthShuklaLivesOn #SidharthShukIa #SidHearts pic.twitter.com/ik3QFkFplF

— binayak pradhan🇮🇳♥️🙏 (@sonubinayak) September 2, 2022
With the support of these fans, Siddharth Shukla was able to win the trophy of Bigg Boss 13. Siddharth Shukla's stardom is worth seeing that even today his fans are remembering him fiercely on social media. People had become attached to Sid like a family personal. At the same time, fans also like this couple very much due to their friendship with Punjabi actress Shahnaz Gill.
read this also-
Sidharth Shukla Death Anniversary: ​​Many Bollywood actors also failed in front of Siddharth Shukla's stardom, the name associated with all the controversies
Sidharth Shukla Death Anniversary: ​​Siddharth used to fight with the world for Shahnaz, supported him a few days before his death…