Twin Towers Demolition Memes Viral On Social Media Related Lal Singh Chaddha Dobaaraa And Liger | Flood of memes came as soon as Twin Towers fell, people said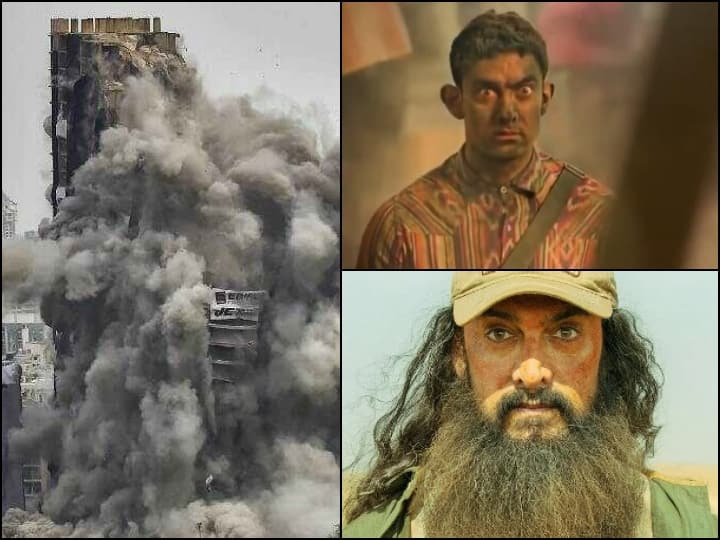 Memes On Twin Towers Demolition: The Supreme Court ordered the demolition of the illegally built Twin Towers in Noida on August 31 last year, a year after which action was taken on this famous building. Today i.e. on August 28, the Twin Towers were demolished. Now if anything happens in the country and the world, then its effect is clearly visible on social media. In such a situation, how do users keep calm on the Twin Towers?
As soon as the Twin Towers fell, it started trending rapidly on social media. Many people shared the video of the collapse of the building, while many shared such funny and funny memes on it that you will not be able to stop your laughter. Not only this, many users have wrapped films like 'Lal Singh Chaddha' and 'Liger' in the meantime. Let's take a look at some such memes.
A user introduced Nana Patekar's popular dialogue 'Aa Gaye Meri Maut Ka Tamasha Dekhne' by linking it to the Twin Towers.
#TwinTowers to all news channel pic.twitter.com/sj9wZMX2Vj

— memes_hallabol (@memes_hallabol) August 28, 2022
Well-known actor Manoj Bajpayee also appeared on Twitter and the whole area turned into smoke.
#TwinTowers
Supreme court to Noida people: pic.twitter.com/7Hu2u8FA0H

— Alex (@alex_swami04) August 28, 2022
How can there be a flood of memes on social media and Jethalal is not a part of it. People also introduced them in the form of memes.
Media outside of #TwinTowers from yesterday: pic.twitter.com/1IFvdP3KMg

— Shruti (@kadak_chai_) August 28, 2022
Meanwhile, a user enjoyed the recently released films like 'Lal Singh Chaddha', 'Dobaara' and 'Liger'. The user wrote that more than these films, people showed the Twin Towers falling.
More number of people watched twin tower demolition than Lal Singh Chaddha, dobaaraa and Liger combined

— Ananya Rawat (@Ananyatweets__) August 28, 2022
Engineers are a part of most of the memes viral on social media, so how did they stay away from the Twin Towers.
Engineers before explosion of #TwinTowers pic.twitter.com/ybIclZwp4L

— Top Choices (@T0PChoices) August 28, 2022
Presenting Aamir Khan's character PK in the language of memes, social media users also showed the condition of the people of Noida when the Twin Towers fell.
Noida people right now. #TwinTowers pic.twitter.com/unIIRjCvxy

— Sagar (@sagarcasm) August 28, 2022
Also read-
Home Tour Video: From living room to children's nursery… Neha Dhupia-Angad Bedi's entire house is very luxurious
Actor Nawazuddin Siddiqui understood the pain of Bollywood actresses by becoming a woman!