Mommy Hazel Keech Shares Adorable Picture Of 7 Months Fashion Icon Orion Keech Singh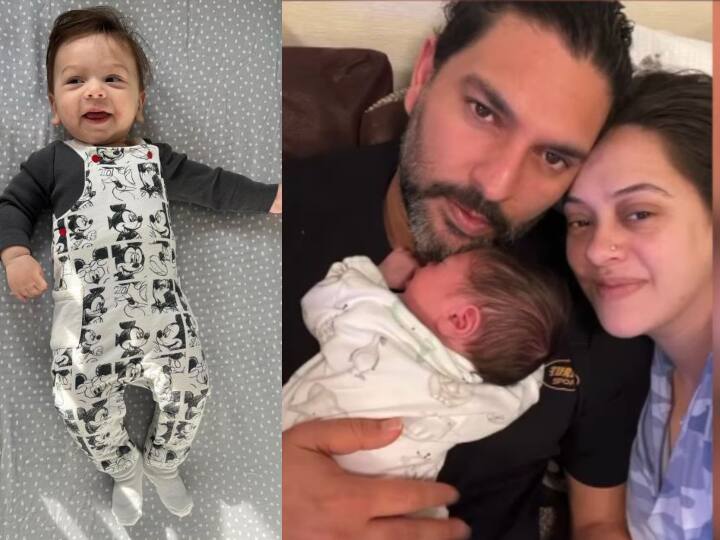 7 Months Fashion Icon Orion Keech Singh: Former India cricket and sixer king Yuvraj Singh and his wife Hazel Keech are very busy taking care of their beloved these days. Mummy Hazel loves to click photos of her beloved. Hazel loves her child very much. Hazel showed her child's face in a very unique way and recently again Hazel has shared a very cute picture of her son.
On August 28, Hazel shared a picture of her seven-month-old cute son Orion on her Instagram handle. In the picture, Orion is wearing an Onesie over a gray T-shirt. In which there is a print of Mickey Mouse. The cute dress Orion has been gifted by her aunt. Orion is very happy to get the pictures clicked from the mother. Posting this candid picture, Hazel wrote, Thank you for this small outfit. Oreo cookie fit in it. We are waiting for you to kiss and hug.


A little guest came to Yuvraj and Hazel's house in January
On 25 January 2022, Yuvraj and Hazel shared a picture on their Instagram and announced that a little guest has come to their house. In the picture, he told that he had a son and also requested the media to take care of privacy.
After 5 months, the name of the son was told
After about five months, on the special occasion of Father's Day, he has shared his son's name with the fans through a special post. He also revealed his son's name in the caption and wrote, "Orion Keech Singh Welcome to this world. Mom and dad love their son very much. Your eyes sparkle with every laugh, just like that." Like your name shines with other stars. Happy Father's Day."
Welcome to the world ️. Mummy and Daddy love their little "puttar". Your eyes twinkle with every smile just as your name is written amongst the stars #HappyFathersDay @hazelkeech pic.twitter.com/a3ozeX7gtS

— Yuvraj Singh (@YUVSTRONG12) June 19, 2022
Name of both parents added with the name of the son
Yuvraj had told in an interview that for parents, their child is their own star. When Hazel was pregnant and slept in the hospital. So I was watching some episodes. Where this name came to my mind and Hazel also liked it. Yuvraj has also added the wife's name behind the son's name as he wanted Hazel's last name to coincide with the child's name. That's why he named his child Orion Keech Singh.
Also read: Photos: Sushmita Sen celebrates younger daughter Alisha's birthday, wins hearts by sharing cute post
Actor Nawazuddin Siddiqui understood the pain of Bollywood actresses by becoming a woman!