Ayushmann Khurrana Fans Gone Crazy While See Him, Watch Video | 'Can't come by jumping in the river'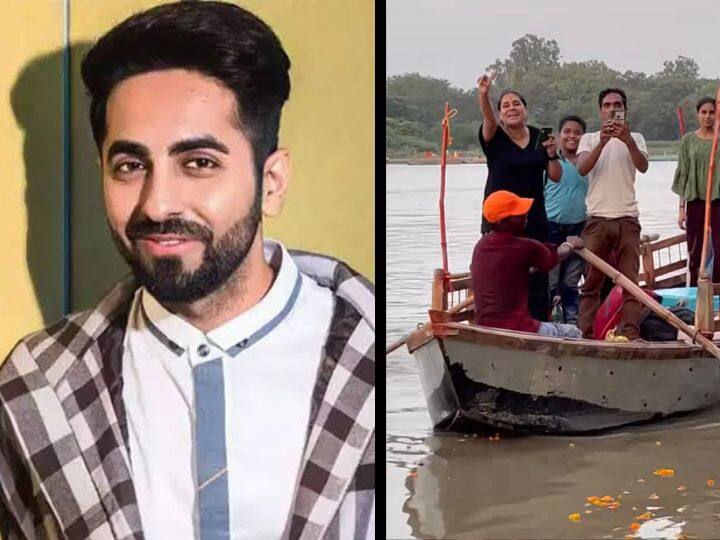 Ayushmann Khurrana Crazy Fans: Actor Ayushmann Khurrana is one of the most powerful actors of Hindi cinema at present. Ayushmann Khurrana has made a special identity for himself in Bollywood on the basis of his amazing acting. Under which the number of fans of Ayushman is also very high. Meanwhile, recently Ayushmann Khurrana has shared a video on social media, in which some of Ayushmann's fans are seen getting uncontrollable while sitting on the boat after seeing him.
Fans became uncontrollable after seeing Ayushmann Khurrana
Actually these days Ayushman Khurana is present on Mathura trip. Ayushmann Khurrana has an old attachment to Kanha city Mathura, because his superhit film Dream Girl was shot in Mathura itself. In such a situation, under Dream Girl 2, it may be that Ayushmann Khurrana may have gone out on a picnic in Mathura with the idea of ​​shooting some scenes. Meanwhile, recently many film superstar Ayushmann Khurrana has shared a video on his official Instagram handle. In this video, Ayushmann is seen showing glimpses of some of his fans. The fans of Ayushmann Khurrana seem to be crazy fans, not just any such fans. In the video you can see that Ayushmann Khurrana is standing across in a boat. While on the other hand some of his fans are in the boat and he is ready to jump in the river to meet Ayushmann. For which the actors refuse him. During this, Ayushman is also seen telling him that he cannot come by jumping in the river.


Ayushman will be seen in these films
In this video of Ayushmann Khurrana, a girl is seen shouting loudly and requesting to take selfie with him. In the caption of this video, Ayushmann Khurrana has written that yesterday I had put a story about it. But it deserves to be on my timeline, it's really cute. Talking about Ayushmann Khurrana's workfront, in the coming times, Ayushmann will be seen showing his performance in the films Doctor G, Action Hero and Dream Girl 2.
IND vs PAK: These TV ads of India-Pakistan match have been a superhit, 'Mauka-Mauka' created a lot of buzz
When Raj Kumar saw Bappi da laden with gold at the party, he said – there is only a shortage of mangalsutra, he would also wear it.