Crazy Mujhko Kar Deti Hai Dinesh Lal Yadav Aka Nirahua And Aamrapali Dubey Hit Bhojpuri Song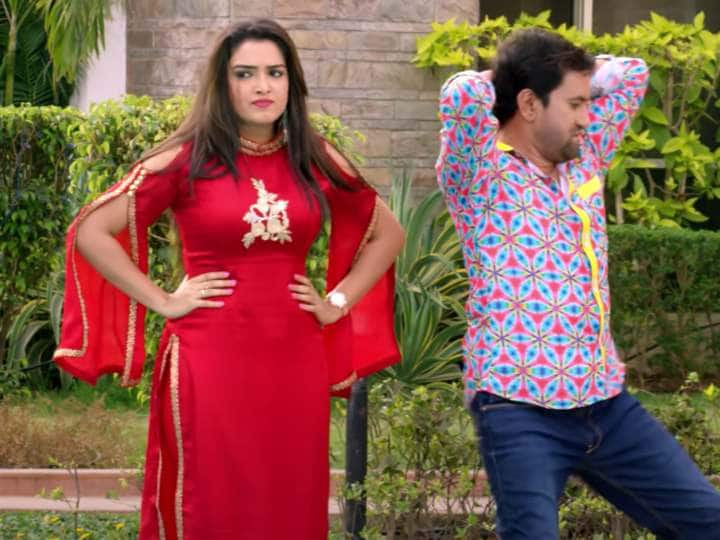 Crazy Mujhko Kar Deti Hai Bhojpuri Song: The world of famous actor Nirahua, who ruled millions of hearts on the basis of his performance in Bhojpuri cinema, is crazy. Along with his romantic films, people also like his songs very much. These days, Nirhua is seen showing his dominance in the world of politics away from the film screen, but his fans are still remembering him. Everyday some song of Nirhua seems to be going viral on the internet. Most of the songs of Nirhua are seen going viral with Amrapali Dubey. The song that has created a buzz today has been titled 'Crazy Mujhko Kar Di Hai'. This song is from the movie Lallu Ki Laila. By watching this video, you must have understood who is Lallu and who is Laila.
But according to this title, Amrapali Dubey should have troubled Nirhua, but here something seems to be happening in reverse. In this video, Nirhua is suffocating Amrapali Dubey's nose. Even Amrapali Dubey has kept falling inside the pool because of Nirhua's antics. But still Nirhua did not desist from his antics and with a fast dance, the audience is also seen dancing with him.
This song of Nirhua and Amrapali Dubey was released on Worldwide Records Bhojpuri in the year 2019. More than one million views are being seen on this song. Thousands of viewers have showered a lot of likes and comments on this video. This song is sung by Dinesh Lal Yadav and Amrapali Dubey. The lyrics of this song have been written by Santosh Puri. So there the music of this song has been given by Madhukar Anand. This song seems to be memorizing on the lips of the audience.
read also
Munawar Faruqui's show will not be held in Delhi, Delhi Police took this big step after VHP's threat
Anu Aggarwal's fate had changed as soon as Aashiqui became a hit, but life was ruined by an accident!