Kaun Banega Crorepati 14 Contestant Asked Amitabh Bachchan Whom You Like The Most Me Or Aishwarya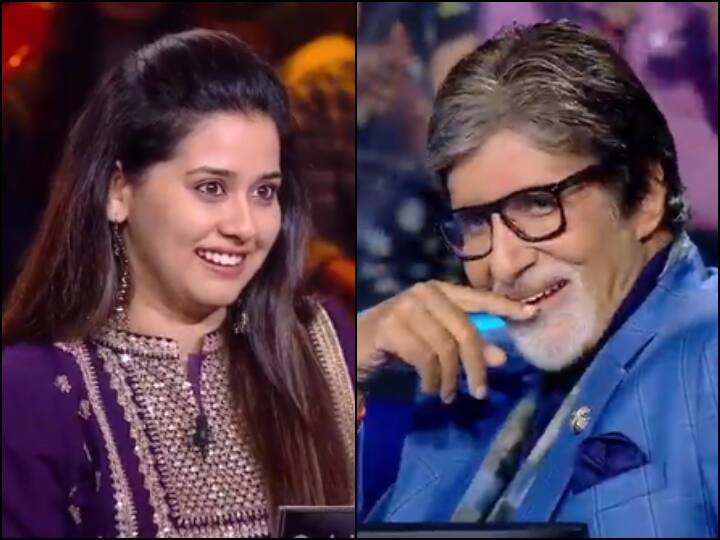 Kaun Banega Crorepati 14: Season 14 (Kaun Banega Crorepati Season 14) of TV reality show Kaun Banega Crorepati has started. The 14th season of KBC is slowly progressing in the TRP list. People are liking this show very much. This time also megastar Amitabh Bachchan is hosting this reality show. This time very interesting contestants are participating in the show. The latest promo of KBC has been released in which Aishwarya has reached the hot seat, no it is not Big B's daughter-in-law Aishwarya Rai Bachchan. This is a contestant who put Medastar Amitabh Bachchan in a strange dilemma.
When Aishwarya sat on the hotseat
Sony TV has shared a cute promo video of KBC. In this, a girl has stopped speaking of megastar Amitabh. Has put them in a strange dilemma. After watching this promo video, the excitement towards the show has increased among the fans. Actually, a contestant named Aishwarya reaches the hot seat in the show. The host of the show Amitabh Bachchan is also surprised to see this player. This promo is also being discussed a lot on social media.
funny video for amitabh bachchan
In the next episode of KBC (KBC 14 Latest Promo), a contestant named Aishwarya shows a funny video of her to Amitabh Bachchan. She is saying to Amitabh Bachchan in the video that 'Namaste we are talking about Gajodhar aunty'. I am saying that I have been in attitude since morning, selection has been done in KBC, and Bachchan ji, you only increase our heartbeat. Then says Amitabh Bachchan.
Big-B was shocked to hear Aishwarya's name
After this, Aishwarya sitting on the hot seat asks, tell me who is more like Gajodhar aunty or Aishwarya? On this question, Big B starts hiding his face shyly and asks to get out of the situation that the next question is this. On this matter, all the viewers sitting in the show start laughing.


This contestant named Aishwarya herself is an entertainer and entertains the audience with funny videos, she makes funny reel videos on social media with the character of Rajodhar Chachi. Viewers will see Aishwarya playing the quiz in the next episode.