ColorOS 13 Preview: More fun than ever for Oppo users, but we have ONE question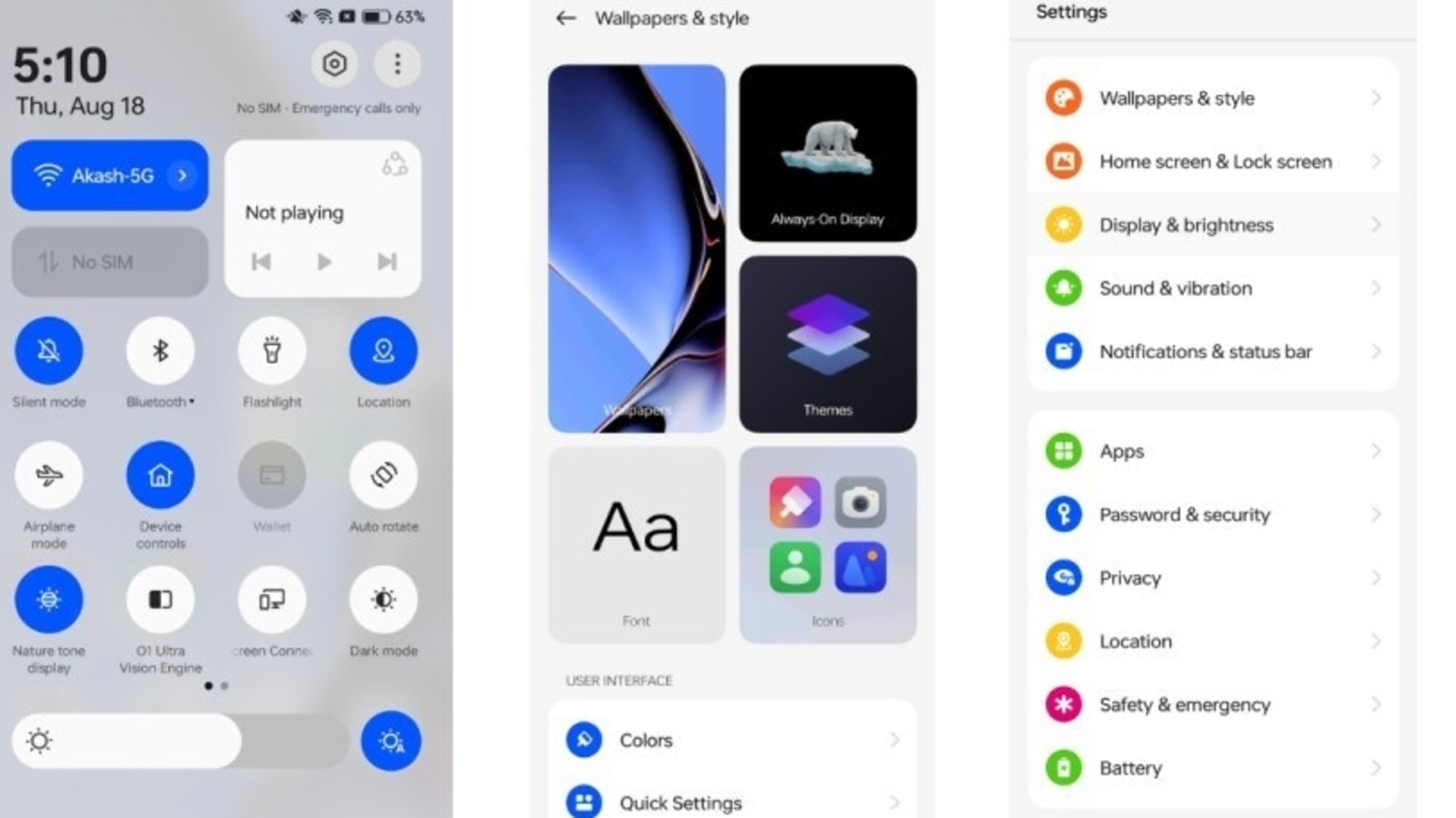 Oppo has released ColorOS 13, which is based on Android 13 and emphasizes customization, material you design and some useful quality-of-life features. But does it make your life easy? Find out in our review.
With ColorOS 13, there is a huge focus on improving the aesthetics and customization options. Based on Android 13, this year's operating system from Oppo includes Material You themes as revealed at this year's Google I/O, including choosing accent colors from wallpapers and applying them to app icons and the overall theme. But that's not all, there's another shade of this ColorOS that you can't help but notice Oppo and shout for the same reason – the similarities with Apple's iOS 15.
It's not a new trend as we saw the inclusion of Omoji, a Memoji replica, last year. But this year, the similarities have only grown. Once you pull down the notification bar, you may want to double check in the control center if you picked up your iPhone 13 by mistake. Long-pressing on app folders also magnifies it, just like iOS 15, although the same has not been extended to specific apps.
But it's not a big deal after all. These features fit well within the entire ColorOS 13 ecosystem and provide a convenient way to use the device. It wouldn't be fair to focus only on the Apple-inspired additions, either, as Oppo also has plenty of unique upgrades. As always, reading the list of features doesn't tell us much about how the operating system works. So, how does the ColorOS 13 perform when used in real-life conditions and viewed as a whole? I tried an Early Access build of ColorOS 13 on an Oppo Find X5 Pro to answer.
ColorOS 13 design
I would like to emphasize that I have used the ColorOS 13 on Oppo Find X5 Pro, which is a flagship device and the OS experience may vary for more affordable smartphones. That said, the latest OS has a strong focus on design and aesthetics. One of the biggest upgrades in this is in the 'Wallpaper & Style' settings, which were previously called 'Personalizations'.
Adapting to the next level of Material You themes, you can now pick accent colors from the background and apply them to the overall theme, including the notification bar, dialer menu, and so on. You can also do the same with icons with the option 'Match wallpaper colors'. However, this does not apply to third-party apps as of now. Icons also get a new 'aquamorphic' design with a hydrodynamic aesthetic, which deviates from the acrylic theme of ColorOS 12.
By upgrading the Quantum Animation Engine to the 4th generation, the app's opening, closing, and transition animations are much smoother and more detailed than the previous version, which looks great. The 120Hz refresh rate also helps make it look better, which may not be possible in smartphones with lower refresh rates (90Hz or lower).
Finally, the always-on display (AOD) has also been given options for more customization, the biggest of which is Omoji inclusion on AOD. Apart from that, users can add custom patterns, texts and portraits from your photos using the Canvas feature. Support for Spotify AOD on lockscreen has also been added.
ColorOS 13 Features
The biggest upgrade has been received by the notification and control center, which is now a single bar rather than two separate sliding menus, depending on which side of the phone you swiped on. The Control Center, similar to the iOS 15, has larger icons for Wi-Fi and mobile internet and a large panel for music. The rest of the icons have also been resized to increase the space around them.
You can now enlarge app folders on the home screen, a feature we recently observed on the Nothing Phone (1) and of course the iOS 15. This helps to open an app directly from the folder instead of having to recreate the folders over and over to open. Apps with widgets can now be accessed directly by long pressing the app icon.
Some quality of life features are also included in Android 13, such as the option to edit a copied text and save it to the clipboard, copy images for editing, a new Kids space and a custom game engine that gamers offers more options.
ColorOS 13 has also tweaked all of Android 13's privacy and security features. You now get stricter location permissions, automatic detection of sensitive information to prevent third-party apps from reading it, and choose a photo from the gallery to share with an app without letting it access other media content.
The feature update wasn't as big as the design overhaul, but I believe these were some major improvements needed to improve the overall smartphone experience.
Oppo's latest platform update is true to including the Android 13 elements to improve customization and adds some independent features that seem quite useful, inspired by iOS 15 or otherwise. I was impressed with the sheer amount of customization available for the always-on screen and icons.
However, there is a bigger question at hand. The ColorOS 13 I experienced was on a premium smartphone where bloatware is minimal and you aren't bothered by unwanted notifications – something that usually happens with local models like the Reno 8 Pro, Reno 8, F21 Pro, and so on. Will this clean and sleek experience also be extended to the mid-range and budget range of smartphones with ColorOS? The answer to this has not been very encouraging in the past and I think this question should be answered by Oppo. It's high time that Oppo took it upon itself to justify its premium products with a premium software experience. This ColorOS 13 has the potential to deliver that, we just hope Oppo realizes that and resist the temptation to post more than 20 junk apps for the sake of monetary gain.