Koffee With Karan 7 Sonam Kapoor Reacted On Arjun Kapoor Malaika Arora Relationship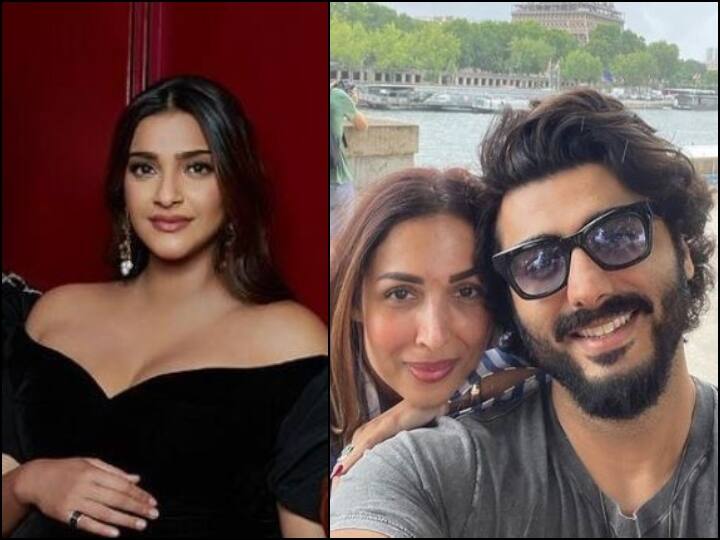 Sonam Kapoor Arjun Kapoor Episode: The show 'Koffee with Karan 7' hosted by Maker Karan Johar is in the news. Every week the deep secrets of the stars are revealed in the show. However, in the latest episode, the celeb brother-sister duo rocked their chemistry. Cousins ​​Arjun Kapoor and Sonam Kapoor appeared in the latest episode of 'Koffee With Karan 7'. Karan Johar brought many things related to his personal life to the world.
In this conversation, Karan Johar also raised many questions on the connection between Arjun Kapoor and Malaika Arora. Even, Karan asked Sonam to comment on Arjun and Malaika's relationship. During this, pregnant Sonam Kapoor gave a very cute reply, which melted the heart of her brother Arjun.
Sonam Kapoor spoke on bond with Arjun Kapoor
Karan Johar asked Sonam if he felt that when Arjun made his relationship with Malaika official, he needed to support his brother as the situation was not good at that time. To this the actress said, "There is a difference of 15 days between Arjun and me. There are some pictures of us in which we were always together. We were in a class. We used to stay together often. So the point is, where is the unconditional love.
Sonam Kapoor's reaction on Arjun Kapoor-Malaika Arora relationship
Sonam Kapoor further said, "You have to accept everything that makes you the person you love dearly. It is obvious that the stability, happiness and peace that has come in his life in recent times was not there before. He was wandering here and there. So, obviously I will support anything that makes her happy." On hearing this, Arjun Kapoor kisses Sonam Kapoor's cheek.
Malaika Arora started dating Arjun leaving her husband
Let us tell you that Malaika Arora got divorced from Arbaaz Khan in the year 2017. Arjun and Malaika made their relationship official in 2018, just a year after the divorce. Because of this, he also had to face a lot of criticism. There is a difference of about 12 years between the two.
read also
Laal Singh Chaddha: Aamir's film released amidst boycott trend, some said 'blockbuster' and some are still doing 'boycott'
Laal Singh Chaddha Review: Aamir Khan has again shown why he is a genius… this story will make you cry