Kaun Banega Crorepati 14 Amitabh Bachchan Scared To Know About Constant And Her Husband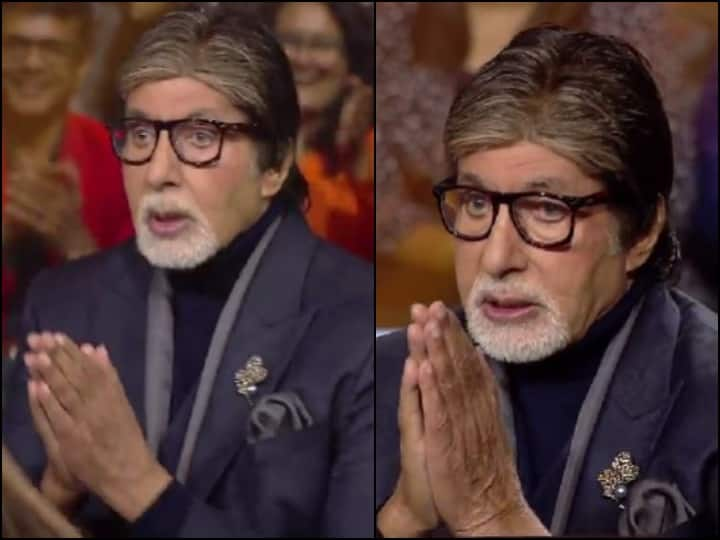 Kaun Banega Crorepati 14 Promo: 'Kaun Banega Crorepati' is a platform where contestants from different corners of the country yearn to come. In this show people earn crores of rupees by using their intelligence. However, apart from this, one more thing makes this show special and that is Amitabh Bachchan, the veteran megastar of Hindi cinema. This show is quite popular because of Big B, because the way he adjusts with the contestants, it is commendable.
Amitabh may be the emperor of the film industry, but he never considers himself an insult in bowing his head in front of others and this becomes clear from his latest video. In the interest of the country, Amitabh Bachchan bowed his head and folded his hands in front of two people, and also jokingly said that, he is very afraid of people who work on high posts.
Amitabh Bachchan got scared knowing the profession of the contestant
A new promo of KBC 14 has been shared on Sony TV. It can be seen in the promo that new contestant Sampada Saraf introduces himself to Amitabh Bachchan and tells that he is the Deputy Collector. On hearing this, Big B stops him. Then he says, "This is a big deal. You should have brought us from there with folded hands. You are the government. Who has to exclude whom inside, it is all in your hands, isn't it? Very scared of you guys. Now whatever questions we ask you, we will do it out of fear.


Entire family is dangerous – Amitabh Bachchan
After this, when Amitabh Bachchan asks Samprada's husband, what does he do. Then he tells that there are DSPs in Madhya Pradesh. Hearing this, Amitabh is shocked and he bows his head in front of him and Samprada and starts joining hands. After this Big B says that, the whole family is very dangerous. You have to be afraid. This funny video of him is being liked a lot.
read also
TV Celebs Raksha Bandhan 2022: Somebody spoke with mother and some spoke with brother, TV stars celebrated Raksha Bandhan like this
KBC 14: Amitabh Bachchan's senses were blown away after knowing about the contestants, so impressed that asked for autograph