Shilpa Shetty Got Injured During Acting Scene Shooting Of Indian Police Force Set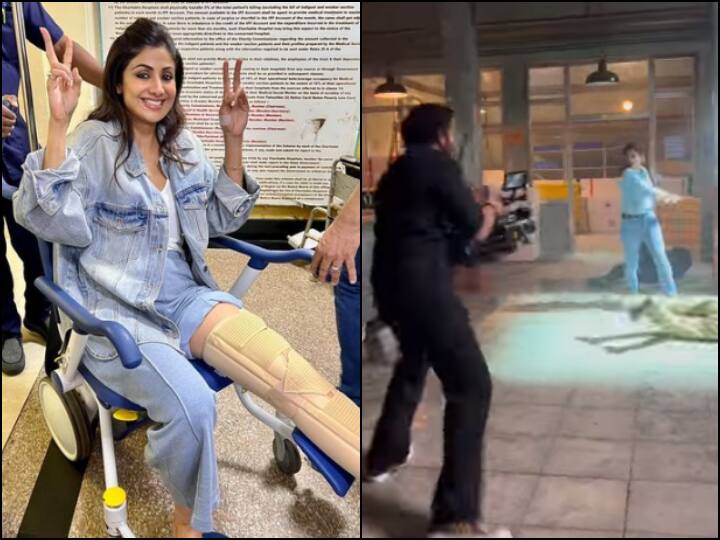 Shilpa Shetty Got Injured: Bollywood actress Shilpa Shetty Kundra has been injured during the shooting of an action scene. Shilpa, who is busy making a comeback in films, informed about her leg fracture on social media. The 47-year-old actress is currently busy shooting for director Rohit Shetty's web series Indian Police Force. Fans on social media are wishing the actress a speedy recovery.
Shilpa Shetty has shared a picture of herself on Instagram, in which she is seen sitting on a wheel chair. Shilpa has plaster on her left leg. Although she is seen laughing. Sharing this picture, she wrote, "They say role, not camera action – 'Break a leg' I took this saying literally. Won't be able to do anything for 6 weeks now, but soon more I will come back better. Till then remember in prayers, prayers always work…"


Fans pray for speedy recovery
In the comment box, the fans of Shilpa Shetty are praying for her speedy recovery. Some celebrities also expressed concern for Shilpa when she was injured. Most of the fans were seen advising him to remain strong in such times.
Indian Police Force will see explosive action
Let us tell you that Shilpa is busy shooting for director Rohit Shetty's upcoming web series 'Indian Police Force' these days. Shilpa got injured while doing an action sequence of the same series. She has suffered a serious injury but the actress has taken it very positively. She will return to shooting after a month and a half.


Shilpa is trying to make a comeback
Recently, Rohit Shetty shared a video on social media. In this, Shilpa was seen doing action with Siddharth Malhotra. Now she is also seen in the hospital with her fractured leg. Shilpa was seen as a judge in reality shows for the last few years. Shilpa, who is constantly active on TV, has again turned to films. In the past, his film 'Nikamma' was released, which could not show much at the box office.
Shilpa's last 2 films were flops
Talking about the film, 'Indian Police Force' is a Universal Cop type film by Rohit Shetty. Earlier he has made 'Singham', 'Simba' and 'Suryavanshi'. With this series, Rohit is going to hit the entry on the web and OTT platform. On the other hand, Shilpa tried her best to make a comeback through 'Hungama 2' and 'Nikamma' but both the films proved to be cold. Now it has to be seen when Shilpa can make a real comeback in the film world.