Ameesha Patel Shows Location Of Handpump Scene Of Film Gadar Watch Video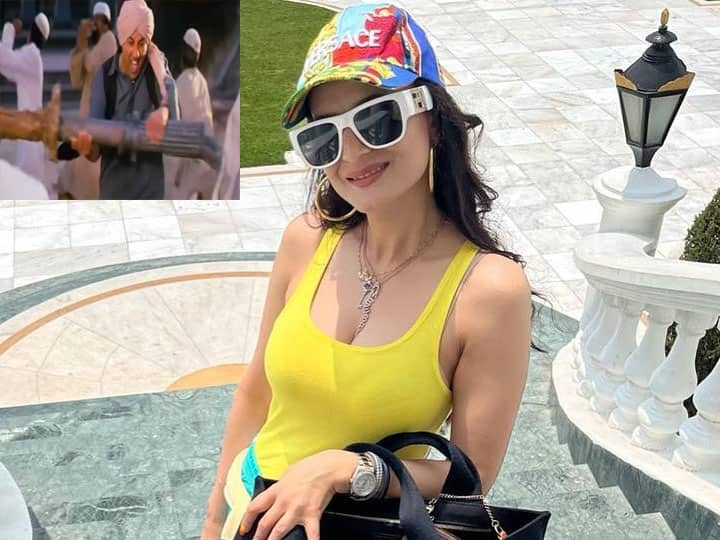 Ameesha Patel Shows Gadar Handpump Scene Location: There are very few films, whose story, from songs to dialogues, scenes, everything proves to be superhit and remains in people's mind for a long time. Sunny Deol and Ameesha Patel's 2001 film 'Gadar' is one such film, which really created a ruckus at the box office.
Everyone will remember that iconic handpump scene of this film, in which Sunny uproots the handpump to confront the goons. How many whistles and applause were there on this scene, how can those watching in the cinema hall forget it.
The shoot took place at Francis Convent School in Lucknow.
Especially remembering the handpump scene of 'Gadar' because the film's heroine Amisha has given a glimpse of the place where it was shot. Although now that place has completely changed, but memories are memories.
Ameesha had recently reached Lucknow in connection with an event. In such a situation, she also went to refresh her memories at the location where 'Gadar' was shot. He has specially shared the video of the location where the iconic handpump scene of 'Gadar' was shot.
That place was the Francis Convent School in Lucknow, which has now completely changed. Where Ameesha is seen standing in the video, there is greenery all around. She tells that when the film was shot, it was not like this here.
Ameesha told, now that location has changed a lot
She says, "The iconic scene of Gadar was shot here. That's the place behind me. There was no grass here. At that time there was no garden here. This was not everything. There were only stairs.
Amisha goes a little further and says, "The pump that was uprooted was here. Then we all ran towards the stairs. The scene of Hindustan Zindabad, Zindabad Hai, Zindabad Rahega, happened here.


Ameesha Patel is also seen telling the people present that there was a crowd of thousands of people at the time of shooting. It is worth noting that the sequel of 'Gadar 2' is also coming, in which the 'Gadar' pair of Sunny and Ameesha will be seen once again.
Also read: Genelia DSouza has lost so much weight by doing intense workouts, watch inspiring video of her weight loss journey
Also read: South Star Naga Chaitanya's biggest flop film is releasing on OTT