Dinesh Karthik 2.0, the finisher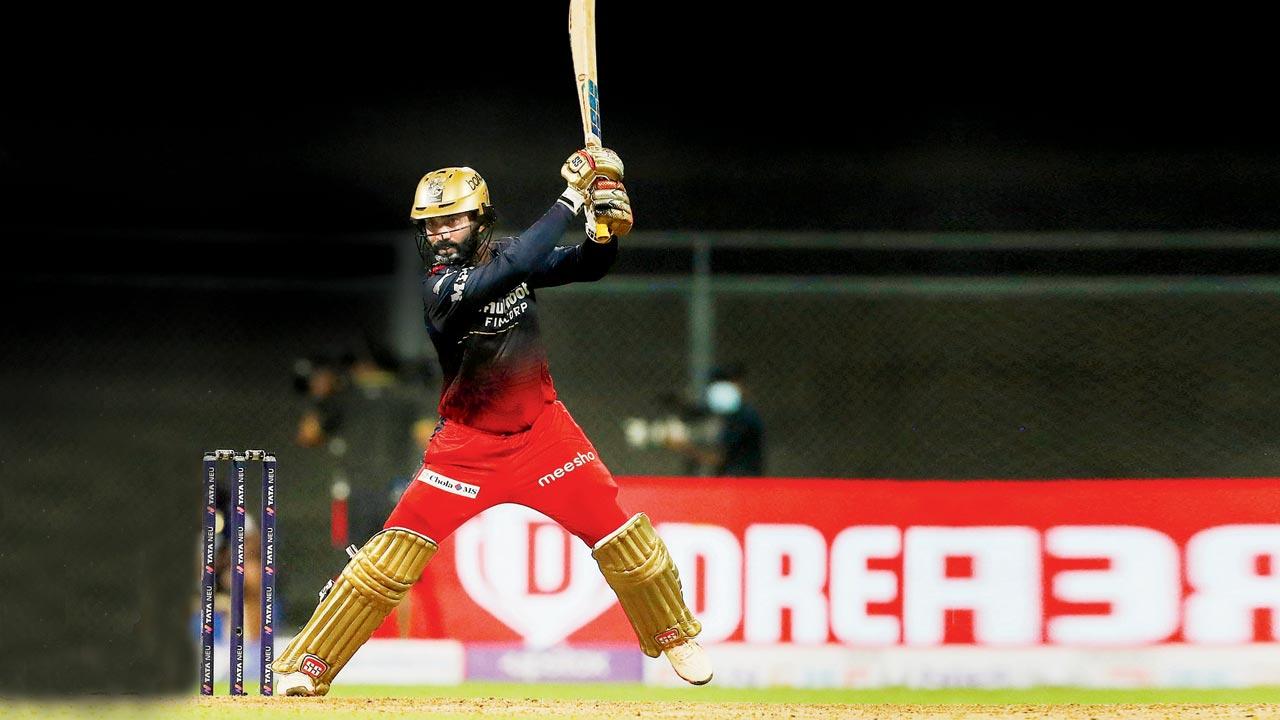 Just when everyone thought that Dinesh Karthik was a spent force in cricket, given the manner in which the Indian national selectors shut the door on him following India's loss in the 2019 World Cup semi-final to New Zealand at Manchester, the veteran wicketkeeper-batsman insists he's 'not done yet.'
Karthik, 36, who had turned to commentary during the ICC World Test Championship final last June, has been clinically finishing games for Royal Challengers Bangalore in this Indian Premier League, something chief selector Chetan Sharma & Co would be keenly watching.
He has done it twice so far. First, a seven-ball 14 not out as RCB crossed the line against Kolkata Knight Riders at the DY Patil Stadium on March 30. Then, his unbeaten 23-ball 44 that set up a four-wicket win over Rajasthan Royals at Wankhede on Tuesday.
'Training differently'
Karthik, ably supported by Shahbaz Ahmed's 26-ball 45, ensured RCB comfortably chased down the 170-run target with five balls to spare.
"I think I made a conscious effort to do justice to myself because I felt last year I could've done a little better," Karthik told Star Sports after receiving the Player-of-the-Match award on the night.
"The way I trained was a little different—hats off to the person I trained with. He put me through some things that were very important for me in life as well. I say that only because I was making a conscious effort to tell myself that I'm not done yet. I have a goal, I want to achieve something and I tried my best in terms of preparation."
In RCB's first game, Karthik provided the late push with a 14-ball unbeaten 32 cameo against Punjab Kings on March 27.
On Tuesday, when he came out to bat, RCB were almost out of the contest, needing 83 off 45 balls. RR skipper Sanju Samson brought back veteran offie R Ashwin, who had conceded 18 runs off his first three overs, to counter Karthik, but the move backfired. Karthik treated his Tamil Nadu statemate with disdain, scoring 21 runs off the 14th over, changing the complexion of the game. Karthik sweetly timed the ball and went about his business calmly.
RCB skipper Faf du Plessis appreciated Karthik's effort and felt that he is playing his "best cricket" and that he should consider putting "his name back into international cricket".
Karthik credited his focused preparation for this success. To adapt to the finisher's role, he began playing in the middle-order for corporate outfit, India Cements in the lead-up to the IPL. His batting drills and match simulations were all specifically planned, keeping in mind the finisher's role.
Thrust on white-ball cricket
"I made a conscious effort to play white-ball cricket. I don't play four-day cricket anymore. The quantity of matches have reduced, so I need to play that many more games as practice matches and scenarios. So, I try and do a lot more of that…going to grounds and a lot of people have been with me in this journey.
"Those are the hours that you put in when nobody's watching and those are the most important hours. Because when it comes [off] here, it's great. The set-up is beautiful, you have a lot of people and they're helping me a lot, but the real work is done in the lead-up to the tournament, which is what I'll give a lot of credit to," explained Karthik.
Ahmed, with whom Karthik stitched a crucial 67-run sixth-wicket stand, acknowledged his senior partner's guidance. "He was constantly guiding me on what shots to play and how to go about the chase. It was certainly very helpful," said Shahbaz.